TITAN Salvage to Remove Navigational Hazards in Port-au-Prince, Haiti–Including Collapsed Gantry Crane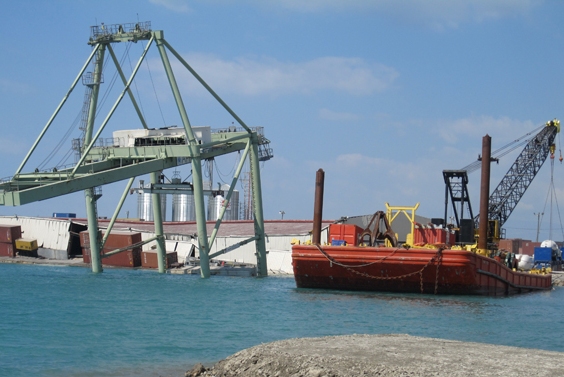 (Pompano Beach, Fla.; Feb. 12, 2010) – A TITAN Salvage team is working in Haiti to remove navigational hazards, including the collapsed Washington gantry crane, in Port-au-Prince for the U.S. Transportation Command (USTRANSCOM), in an effort to increase the cargo throughput in the heavily damaged port.
TITAN's team, led by Salvage Master Roy Dodgen and Project Manager Leo McDonough, is using Resolve Marine Services' 142-foot crane barge RMG300 to help clear debris and other navigational hazards. Additionally, TITAN has hired Associated Marine Salvage's 150-foot crane barge MB1215 to support the marine construction needed to position two, 400-foot by 100-foot Crowley deck barges in the port. The barges will be used as floating piers for discharging cargo.
In January, the TITAN team conducted an extensive survey of the port to map navigable routes into the port and determine what underwater obstacles needed to be removed to allow cargo to enter the country directly via vessel. During that survey, TITAN determined that a cargo lightering operation was possible in Port-au-Prince whereby a Crowley containership could transfer full container loads to a smaller vessel offshore and deliver that cargo over a beach.
Since then, Crowley has delivered approximately 935 containers of relief cargo using this lightering method.
"We're working closely with USTRANSCOM to re-establish port functionality," said Dan Schwall, managing director of TITAN. "The faster the port becomes more usable, the faster relief and commercial cargo will make it into the hands of the people of Haiti."
TITAN, a wholly owned Crowley subsidiary, is a worldwide marine salvage and wreck removal company based in Pompano Beach, Fla., that has performed over 350 salvage and wreck removal projects since 1980, including some of the most technically demanding projects ever undertaken. The company also has offices and equipment depots in Newhaven, UK and Singapore. TITAN responds to vessel emergencies around the world and is able to mobilize a worldwide network of expert salvage professionals and specialized, portable equipment within hours of activation. TITAN is accessible 24 hours a day through the company's main dispatch telephone number, +1-954-545-4143. Additional information about TITAN may be found at www.titansalvage.com.
# # #