TITAN Salvage Opens Fourth Facility in Cairns, Australia
Team Springs into Immediate Action with Successful Rescue and Salvage of Two Stricken Vessels in Waters Surrounding Australia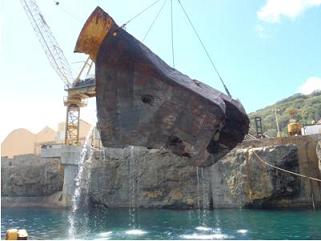 (Cairns, Australia; December 14, 2012) – To meet the needs of changing market conditions and increased commercial vessel traffic in and around the Great Barrier Reef, TITAN Salvage has established a new office and equipment depot in Cairns, Australia. The presence in the Pacific Southeast enhances the company's marine salvage, wreck removal and emergency response capabilities in the region. With this new depot, also comes the region's introduction to new subsidiary TITAN Maritime (Australia) Pty. Ltd., which has already performed successful salvage and response efforts in the area, with the recent drifting M/V Integrity and the sunken Tycoon.
TITAN Australia's new 20,000 square foot depot houses a wide variety of emergency response equipment, including generators and pumps, hydraulic power packs, diving equipment, floating lines, satellite communications equipment and proprietary TITAN hydraulic chain pullers, each with a 300 tonne pulling capacity.
In its new location, the TITAN team will work closely with the Australian Maritime Safety Authority (AMSA) and salvage partner Ian Perrott, of Perrott Salvage. Over the last two years, Perrott Salvage and TITAN have worked together to provide emergency response and salvage around the Great Barrier Reef and Australia. 
Titan's two successful recent salvage jobs, though varied in scope, allowed the company to showcase its strengths in this region with equipment, specialized personnel and powerful partnerships that resulted in prompt, effective, safe and cost-efficient services to the customers.
The M/V Integrity requested assistance while en route to Townsville, Queensland, after engine failure caused it to drift dangerously close to Shark Reef of the Coral Sea Islands. TITAN Australia was contacted and immediately dispatched emergency equipment from its Cairns depot along with two contracted tugs, Pacific Tug's PT Kotor, which arrived first on scene and cast the original tow line, and PB Towage Australia's PB Leichhardt. The AMSA also diverted its larger rescue vessel Pacific Responder from training duties and, once on scene, engaged it in tow duties while the PT Kotor and PB Leichhardt provided assistance to anchorage.
"This incident was the first emergency response conducted from TITAN's newest base in Australia and it was considered an extremely successful operation. We worked effectively with our partners, and were also able to cement our already effective, strong and cooperative working relationship with the AMSA," said TITAN's Eric Shelley, operations manager. "The timely manner of this response, the team effort of TITAN Australia, TITAN partners and the AMSA helped protect the Great Barrier Reef from damage and prevented environmental risk, which are of huge importance to the maritime industry and the Australian authorities."
TITAN Australia was also recently contracted to remove wreckage from the M/V Tycoon, which came to rest in environmentally sensitive and remote waters off the coast of Christmas Island, some 200 miles from Indonesia in the Indian Ocean. After sinking, the vessel broke apart during storms, disrupting port operations and threatening the sea life and beaches of Flying Fish Cove. By utilizing a large electro-magnet and careful rigging, TITAN's salvage team removed over 1,600 tons of scattered debris without harm to the marine environment.
"This new location has already demonstrated that it is of high complement to the company's existing footprint within the United States, United Kingdom and Singapore," said Lindsay Malen, director business development. "It allows TITAN to offer global marine salvage capabilities by combining dedicated personnel, skills and equipment."
The new facility is strategically located at 15 Knight Street, Portsmith, Cairns, and is managed by Operations Manager Eric Shelley, who is available by calling +61-7-40354987. 
PB Towage Australia, as the harbour towage division of Pacific Basin's PB Towage Group offer specialist harbour tug and support services at the Port of Townsville and an increasing number of key ports around Australia.
Pacific Tug (Australia) is a family owned and operated Australian business that supplies tugs and towage services both domestically around Australia and to the international market.
TITAN, a wholly owned subsidiary of Crowley Maritime Corporation, is a worldwide marine salvage and wreck removal company based in Pompano Beach, Fla., that has performed over 350 salvage and wreck removal projects since 1980, including some of the most technically demanding projects ever undertaken. The company also has offices and equipment depots in the UK, Australia and Singapore. TITAN responds to vessel emergencies around the world and is able to mobilize a worldwide network of expert salvage professionals and specialized, portable equipment within hours of activation. TITAN is accessible 24 hours a day through the company's main dispatch telephone number, +1-954-545-4143. Additional information about TITAN may be found at www.titansalvage.com.
#  #  #
Caption: TITAN's successful salvage of the Tycoon off Christmas Island, Australia