TITAN Salvage Completes Removal of Collapsed Gantry Crane and other Navigational Hazards in Port-au-Prince, Haiti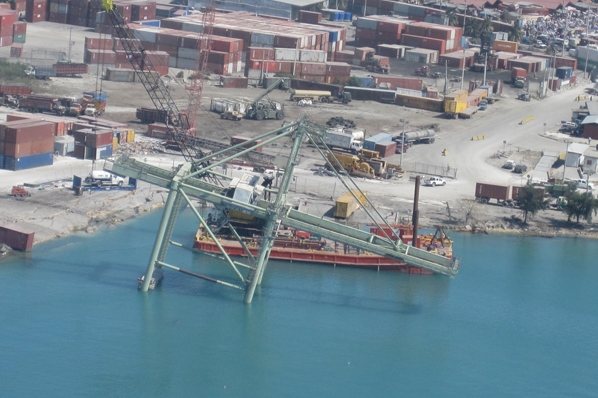 (Pompano Beach, Fla.; March 18, 2010)—TITAN Salvage has safely removed the partially submerged Washington Gantry crane and other navigational hazards from Port-au-Prince, Haiti, for the U.S. Transportation Command (USTRANSCOM). The company's work helped to re-establish port infrastructure and significantly increase the volume of marine cargo into Haiti following the devastating earthquake in January.
The largest and most hazardous obstruction removed was a 300-metric ton gantry crane, which was partially submerged and listing towards the harbor at approximately 15 degrees, blocking access to the northern dock. Using oxy/acetylene torches and a 300-ton capacity crane barge, under contract with Resolve Marine Group, TITAN removed the crane piece by piece from the collapsed pier. Large pieces were landed on shore and then cut into smaller, truck-able pieces. A local Haiti company handled the processing and sale of the scrap metal.
Also included in the port recovery effort was the removal of submerged debris deemed a hazard to navigation. This included debris from an 800-foot area, along the 1,400-foot concrete northern dock, which had collapsed and become submerged in the harbor. Sunken containers, a 79-ton container reach-stacker, a tractor-trailer with 40-foot chassis, miscellaneous vehicles and several of the actual 2-foot by 2-foot concrete dock pilings were removed. TITAN recovered an average of 32 tons of debris per day throughout the project with the heaviest piece weighing in at 80 tons.
This effort was undertaken in order to install two 400-foot-long by 100-foot-wide deck barges, which are now functioning as temporary floating piers, allowing for the efficient handling and delivery of humanitarian and reconstruction supplies to the people of Haiti. While debris was being removed along the north pier to provide a mooring site for the Crowley barge ATKA, a second TITAN team, supported by the crane barge MB1215, under contract with Associated Marine Salvage, worked to prepare a second floating pier site for the Crowley barge 410 just north of the heavily damaged south pier.
The team installed piles and rock fill in order to safely moor each barge in place and provide a stable landing site for 300-ton capacity roll-on, roll-off ramps, which would also provide access for container trucks from the barges to the shore.
TITAN became involved in the Haiti relief efforts soon after the earthquake in January.
A TITAN survey team first conducted an extensive survey of the port to map out navigable routes into the port and to determine what underwater obstacles needed to be removed to allow cargo to enter the country directly via vessel. The company also determined that a cargo lightering operation was possible in Port-au-Prince whereby a Crowley containership could transfer full container loads to a smaller vessel offshore and deliver that cargo over a beach.
Since then, Crowley has delivered more than 1,500 containers of relief cargo using both the cargo lightering and barge transfer method. Other carriers have also had access to this barge transfer delivery method, making it possible to deliver much-needed supplies to the people of Haiti.
TITAN, a wholly owned Crowley subsidiary, is a worldwide marine salvage and wreck removal company based in Pompano Beach, Fla., that has performed over 350 salvage and wreck removal projects since 1980, including some of the most technically demanding projects ever undertaken. The company also has offices and equipment depots in Newhaven, UK and Singapore. TITAN responds to vessel emergencies around the world and is able to mobilize a worldwide network of expert salvage professionals and specialized, portable equipment within hours of activation. TITAN is accessible 24 hours a day through the company's main dispatch telephone number, +1-954-545-4143. Additional information about TITAN may be found at www.titansalvage.com.
# # #