TITAN Salvage and Remolcadores Ultratug Safely Re-float a 26,800 DWT Bulk Carrier in Chile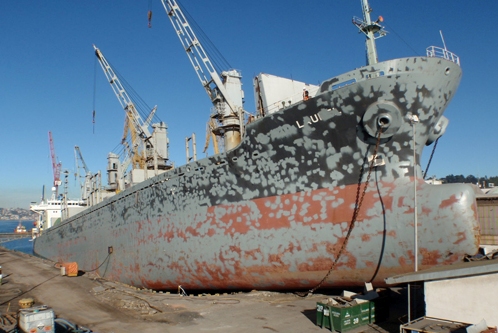 (Pompano Beach, Fla., United States / Santiago, Chile; June 07, 2010)—TITAN Salvage and Remolcadores Ultratug worked together to safely re-float the M/V Laurel, a 26,800-deadweight-ton bulk carrier, which was in a dry dock undergoing routine maintenance in Talcahuano, Chile, in February when an 8.8-magnitude earthquake struck the country.
The quake generated two tsunamis, which lifted the M/V Laurel up and out of the dock, thrusting it forward onto the pier bulkhead. The ship's engine and steering rooms, as well as its No. 5 cargo hold, flooded because the vessel's sea valves and manholes were open.
Remolcadores Ultratug, a Chilean-based tug and salvage contractor, and TITAN Salvage, a global provider of emergency response salvage services, partnered to patch the hull, discharge the remaining heavy fuel oil and shift some ballast to obtain the correct trim. The team also fabricated a custom built 17-ton jacking plate on site and placed it under the bow, along with four, 14-meter rubber air bags to serve as jacks when inflated.
With several hundred tons of ground reaction on the bow, the Laurel's bow was lifted off the dry dock wall and the vessel was gently eased back into the water with Ultratug's powerful tugboats. The Laurel, the dry dock and a 380-ton caisson door, which was precariously positioned beneath the Laurel's bow, suffered no damages.
Chilean-based Remolcadores Ultratug operates in and between all the major ports along the Chilean, Peruvian and Ecuadorian coasts in the Pacific and along the Argentine and Brazilian coasts in the Atlantic offering a variety of services, including harbor towages, salvage operations, offshore/deep-sea towages, marine environmental protection and pilot transfers. For more information about Ultratug, visit www.ultratug.com.
# # #