Sixteen Crowley-Managed Vessels Honored with U.S. Coast Guard AMVER Awards in Recognition of Voluntary Rescue Service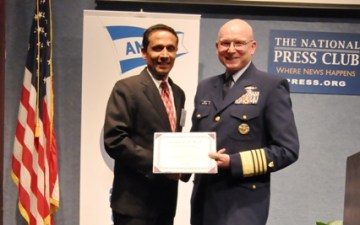 (WASHINGTON, June 15, 2011) ­- Sixteen Crowley-managed vessels were recently honored with U.S. Coast Guard (USCG) Automated Mutual-Assistance Vessel Rescue System (AMVER) awards in recognition of their voluntary rescue services to people aboard vessels in distress in 2010. Crowley received the recognition from Congressman Frank LoBiondo, chairman of the House Subcommittee on the USCG and Maritime Transportation, and Admiral Robert Papp, commandant of the USCG, during a dinner in Washington, D.C.
The 16 Crowley-managed vessels that received the awards include the Endurance, Guardian, Sea Prince, Sinuk, Stalwart, Charleston Express, Philadelphia Express, St. Louis Express, Washington Express, Yorktown Express, Blue Ridge, Coast Range, Courage, Pelican State, Resolve and the Sunshine State.
"Crowley is a proud participant and supporter of AMVER," said Crowley's Todd Busch. "As a company rooted in the maritime industry, we understand the importance of being there for fellow mariners in the event of an emergency. We were pleased to be able to offer assistance when needed and we appreciate the recognition."
In total, 535 ships from 77 companies received recognition awards. The dinner followed the North American Marine Environment Protection Association's (NAMEPA) 2011 National Maritime Day Seminar, which focused on safety at sea.
"National Maritime Day is a wonderful opportunity to recognize our merchant mariners and their tireless efforts to facilitate world trade while preserving safety at sea," observed NAMEPA Founding Chairman and Dinner Chairman Clay Maitland. "AMVER is a voluntary program where commercial implications are set aside to preserve safety of life at sea. This is a maritime 'good-news' story which should make its way into the mainstream consciousness of our global society."
The genesis of the USCG's AMVER system – a computer-based voluntary global ship reporting system used worldwide by search and rescue authorities to arrange for assistance to persons in distress at sea – ultimately finds its roots in the Titanic disaster in 1912. Ships passing within sight of the ill-fated passenger liner were unaware that it had hit an iceberg and was sinking. However, the resultant idea of a ship reporting system that could identify other ships in the area of a ship in distress, which could then be sent to its assistance, would not become a reality until the advent of computer technology. On April 15, 1958, the United States Coast Guard and commercial shipping representatives began discussions, which led to the creation of AMVER.
Jacksonville-based Crowley Holdings Inc., a holding company of the 119-year-old Crowley Maritime Corporation, is a privately held family and employee-owned company. The company provides marine solutions, transportation and logistics services in domestic and international markets by means of six operating lines of business: Puerto Rico/Caribbean Liner Services, Latin America Liner Services, Logistics Services, Petroleum Services, Marine Services and Technical Services. Offered within these operating lines of business are: liner container and break-bulk shipping; logistics; contract towing and transportation; harbor ship assist and tanker escort; energy support; salvage and emergency response through its TITAN Salvage subsidiary; vessel management; vessel construction and naval architecture through its Jensen Maritime subsidiary; government services, and petroleum and chemical transportation, distribution and sales. Additional information about Crowley, its subsidiaries and business units may be found on the Internet at www.crowley.com.
# # #
Caption, left to right: Veera Yarlagadda, Crowley supervisor of port operations, Pennsauken, N.J., receives the award from Admiral Robert Papp, commandant of the USCG