SIU Piney Point Building Dedicated in Honor of the Late Thomas B. Crowley Sr.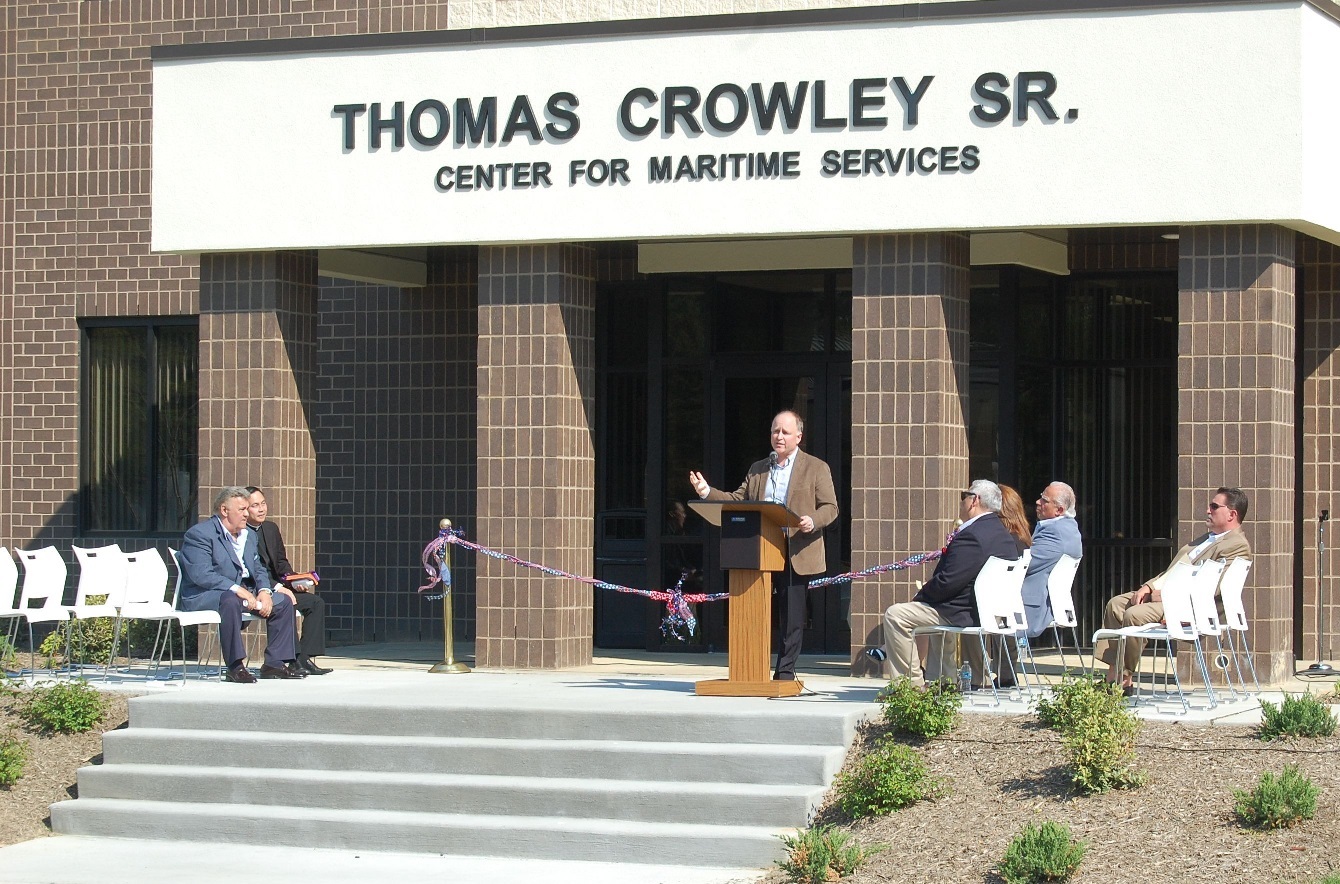 (PINEY POINT, MD; June 3,2015) ­– The Seafarers International Union (SIU) recently honored the late Thomas Crowley Sr. during a dedication ceremony that named a new administration building in his memory. The new Thomas Crowley Sr. Center for Maritime Services, located at the Paul Hall Center for Maritime Training and Education in Piney Point, MD, commemorates the legacy of Crowley, who owned and operated Crowley Maritime Corp. until his death in 1994.
During the naming ceremony, held on campus late last month, SIU President Michael Sacco said, "Tom Crowley Sr. was an effective leader, a maritime visionary and someone you could always count on to do the right thing. When the torch was passed to Tom Crowley Jr., he took the hand off and successfully built upon the family legacy. Like his father, Tom sees the big picture, and he has done a fantastic job expanding Crowley Maritime's operations. He has proven his mettle many times over, and his commitment to maritime training and education is second to none."
Crowley's current Chairman and CEO Tom Crowley Jr. – the son of Crowley Sr. – also had the opportunity to address the crowd, as the keynote. During his speech, he emphasized his appreciation for the tribute and the productive, respectful partnership that exists between the company, union and school.
"This is truly an honor," Crowley said. "Wonderful things have been said about our family and company, but it was also said that my father was a visionary about developing relationships with labor. We run a business that's very complex, one which requires a tremendous amount of training and skill. The only way that we can succeed and continue to build upon this investment here – the investment in the ships and the investment in the people – is to work together."
The new Thomas Crowley Sr. Center for Maritime Services, which was a former military facility, is now a modern space that will be used to train U.S. merchant mariners. The Center will house the SIU medical staff and hiring hall, and will provide classroom space. The SIU's Paul Hall Center is committed to providing the nation's maritime industry with skilled, physically fit and responsible deep-sea seafarers and inland waterways boatmen.
Crowley has operated SIU-contracted vessels since the mid 1970s. Today, Crowley is the largest employer of SIU mariners.
Jacksonville-based Crowley Holdings Inc., a holding company of the 123-year-old Crowley Maritime Corporation, is a privately held family and employee-owned company. The company provides project solutions, energy and logistics services in domestic and international markets by means of six operating lines of business: Puerto Rico/Caribbean Liner Services, Latin America Liner Services, Logistics Services, Petroleum Services, Marine Services and Technical Services. Offered within these operating lines of business are: liner container shipping, logistics, contract towing and transportation; ship assist and escort; energy support; salvage and emergency response through its TITAN Salvage subsidiary; vessel management; vessel construction and naval architecture through its Jensen Maritime subsidiary; government services, and petroleum and chemical transportation, distribution and sales. Additional information about Crowley, its subsidiaries and business units may be found on the Internet at www.crowley.com.