Panama Canal Expansion One Step Closer Thanks to Gate Transport aboard Crowley's Heavy Lift Barge 455 4

Crowley Maritime Corp.'s heavy lift barge 455 4 successfully delivered the first in a series of new gates for the ongoing Panama Canal expansion. Crowley is scheduled to help transport all eight of the gates involved in the Pacific side lock expansion of the Canal – a project that when coupled with the Atlantic side expansion will create a new lane of vessel traffic and double the waterway's capacity.
The 455 4 was contracted by Sarens, a Belgium-based heavy lift company, to transport the gates from Cristóbal, a port on the Atlantic side of the Canal, to Grupo Unidos por el Canal, SA's (GUPC SA) construction dock, which was built to receive the gates on the canal's Pacific side. The 105-foot wide barge, currently the largest capable of transiting the Canal, was towed by Panama Canal Authority (ACP) tugs and made the transit in only one day.
"Crowley provided Sarens the barge to complete this important step in the historical expansion of the Panama Canal," said John Ara, vice president Crowley solutions group. "As family-owned, privately-held companies, both keenly focused on safety, integrity and high performance, working together proved to be a successful partnership for a project that the entire world is literally watching."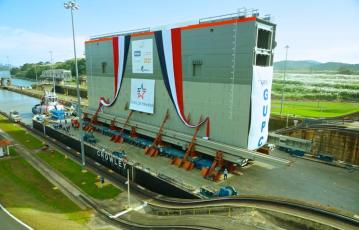 Uniquely suited for the job, 455 4 is one in a series of eight high deck strength barges in Crowley's fleet able to handle uniform loads up to 4,200 pounds per square foot. In cooperation with Sarens and the Panama Canal Authority (PCA), the barge is scheduled to transport another gate in October followed by three more in both November and December.
Prior to the move, Jensen Maritime, Crowley's Seattle-based marine engineering and naval architecture firm, worked with Sarens to perform a professional peer review of Sarens' strength and stability calculations related to the barge and voyage.
The Canal expansion project involves widening the channel and adding a third set of locks, one set on the Pacific and the other on the Atlantic side. The new locks require 16 gates which, when complete, will increase efficiency and allow larger, post-Panamax ships, and extended width barges like Crowley's 130-foot wide Julie B, to travel through the Canal  likely resulting in a higher volume of containerized and non-containerized, break bulk and project shipments.  In the past, vessels were designed with the Canal's size limitations in mind.
Jacksonville-based Crowley Holdings Inc., a holding company of the 122-year-old Crowley Maritime Corporation, is a privately held family and employee-owned company. The company provides project solutions, energy and logistics services in domestic and international markets by means of six operating lines of business: Puerto Rico/Caribbean Liner Services, Latin America Liner Services, Logistics Services, Petroleum Services, Marine Services and Technical Services. Offered within these operating lines of business are: liner container shipping, logistics, contract towing and transportation; ship assist and escort; energy support; salvage and emergency response through its TITAN Salvage subsidiary; vessel management; vessel construction and naval architecture through its Jensen Maritime subsidiary; government services, and petroleum and chemical transportation, distribution and sales. Additional information about Crowley, its subsidiaries and business units may be found on the Internet at www.crowley.com.
#     #     #