Nelly Yunta, Vice President, Customized Brokers Recognized as a "Rock Star of the Supply Chain"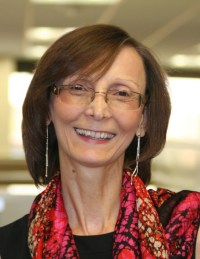 Nelly Yunta, vice president of Customized Brokers, Crowley Maritime Corp.'s Miami-based subsidiary specializing in Customs clearance of all U.S. imports, was recently recognized as a "Rock Star of the Supply Chain" by Food Logistics magazine as part of its second annual Champions award program.
The award was conceived by the global food and beverage supply chain publication as a way to recognize influential individuals and organizations in the food/beverage industry whose achievements, hard work, and vision have shaped, and continue to attain, milestones in safety, efficiency, productivity and innovation throughout the global food supply chain.
"Our industry benefits from the vision and dedication of early pioneers and contemporary entrepreneurs alike who understand the uniquely integrated relationship between people and the global food supply chain," notes Lara L. Sowinski, editor-in-chief at Food Logistics. "From farmers to transportation providers and others who play a part in the global food supply chain, this award is Food Logistics' way of celebrating the talented trailblazers and inspirational mentors whose work deserves acknowledgement and appreciation."
Yunta has been a leader at Crowley since she first joined the company in 1988.  She supervised Crowley's very first apparel services department, which has become a model for the industry, and she was a key contributor to the early consolidation of systems and personnel into one cohesive freight services group.  After spending nine years as manager of freight services, Yunta was named regional sales manager, then in 2006 she was promoted to general manager, Dominican Republic and Haiti. In 2009, she was appointed to the position of general manager for Customized Brokers and in 2011, was named vice president – the position she holds today. In 2003, she was awarded the Thomas Crowley Trophy, Crowley Maritime's most prestigious award.
In addition to her duties for Crowley and Customized Brokers, Yunta is on the board of directors for Florida Perishables Trade Coalition (FPTC) – a non-profit formalized in January 2012 to collectively focus the efforts and experience of Florida's industry leaders and gain support for increased perishables trade through the state's air and seaports.  With unwavering support from Crowley, PortMiami, Florida Customs Brokers & Forwarders Association and  leadership contributions from Yunta, the coalition's key initiative has thus far been successful, thanks to the introduction of the cold treatment project. This project encourages the U.S. Department of Agriculture (USDA) to allow direct importation and distribution of South American perishables that require cold treatment through Florida ports – something that up until now has been prohibited by federal law because of the possible introduction of injurious pests, like fruit flies, and disease to an area whose economy depends in part on local agricultural.
After almost two years of careful planning and education, a six-month pilot program launched in October 2013, coinciding with the growing season and signaling a change that could potentially bring millions of dollars' worth of business to South Florida, while also making fresh fruits (specifically grapes and blueberries from Peru and Uruguay) more readily available to southern regions. About two months after the program initially launched, the first shipment of grapes from Alpine Fresh, Inc. in Peru, arrived in PortMiami and was successfully cleared upon arrival by Customized Brokers. Sixteen other loads followed into South Florida as part of the pilot. The pilot program has since been expanded to include the Port of Savannah and most recently the Port of Charleston.
Yunta was also instrumental in the opening of Crowley's relatively new cold-storage facility in Miami, CrowleyFresh, which allows the company to bundle services and makes it easier for importers who want to turn over the entire product entry process to their customs broker. The firm can unload the product from ships or air containers and get it through the fumigation process, cool it and handle the paperwork.
Last year Yunta was invited to make a presentation at the University of Flores in Argentina to discuss how to bring fruits and vegetables into the U.S. This is just one example of how she works to organize seminars for customers, locally and abroad, to bring awareness of rules and regulations and help them understand the process.  Yunta is currently working with CBP-USDA on in-transit shipments to help bring products through U.S. ports for air freight to Europe and Asia which would open various possibilities for Central America and other countries.
"We constantly look for ways to improve our services and are focused on addressing those issues that affect our industry with viable solutions," explained Yunta.  "We've become paperless, increased cargo visibility through our web portal; and we've facilitated insurance for our customers.  We've also begun offering consulting services for the Food Safety Modernization Act, Food and Drug Administration and other factors affecting our industry.  I, along with Crowley and Customized Brokers, treat all cargo as if it were perishable.  While we lobby against things like new inspection/treatment fees for our perishables importers, or help them get into programs like the 'in-transit asparagus program'; we have the same type of focus for our non-perishable shippers.  Whether the industry is apparel, dry foodstuff, pharmaceutical, or general cargo, our specialized teams seek ways to improve their supply chain. Our goal is to make it easier, faster and more effective for our customers. Whatever works for them is what we do."
Crowley and its subsidiary Customized Brokers can prepare and submit any and all customs documentation for imports of any kind coming into the U.S. The company's strong knowledge of compliance and excellent relationships with regulatory trade authorities combine to allow for expedited client service at seaports, airports and at border crossings. Together, the companies handle fresh fruit and produce clearance including fumigation and transportation coordination; textile 807 handling; foreign trade zones; in-bonds; Quota/Visa requirements; duty preference programs; drawback services; U.S. goods returned; warehouse reconciliation; and mail/informal entries. For more information, please visit www.crowley.com/customsbrokers.
#     #     #