Micki Harrison and Miguel Artiga Presented with Crowley's Highest Honor, the Thomas Crowley Award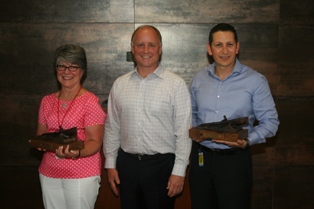 (JACKSONVILLE, Fla.; Aug. 22, 2013) – Crowley Maritime Corp.'s Micki Harrison, director, human resources, and Miguel Artiga, vice president, logistics, Central America, were presented with 2012 Thomas Crowley awards, the company's highest honor, at a ceremony yesterday at the company's Jacksonville, Fla., headquarters.
The exclusive employee recognition program was created in 1985 and only 56 of the company's more than 5,300 employees have received the award symbolized by a limited edition bronze sculpture, which depicts company founder Thomas Crowley ferrying goods to and from ships on San Francisco Bay in the early 1890s. The trophy serves not only as a tribute to the founder of the company, but also to those honorees who have aligned themselves closely with the company's values displaying outstanding performance, dedication, leadership and initiative.
Crowley's Chairman, President and CEO Tom Crowley Jr., the grandson of the company's founder, presented the awards yesterday before more than 200 employees and senior leaders who had gathered from around the world for the event. Included in the audience were eight past recipients of the coveted award.
"This award is very meaningful for me because of the gratitude and appreciation I have for my father, my grandfather and all the employees who have pulled together to make this such a special company," said an emotional Crowley. "Our two recipients this year are people who live the culture and values and do everything they can to make the company better."
In addition to bringing passion and a dedication to teamwork to her job every day, Harrison was recognized for the impact she has had on the training and development of employees throughout the company's many geographic locations.
"Micki is always adding value to the company through her training," said Crowley. "She's giving us the tough skills needed to be good leaders in the organization. You have to believe in what you are doing to make a difference, and there is no question she does."
"I am absolutely thrilled," said Harrison "And I have to tell you, I have been here a long time (32 years) and I am so grateful for every opportunity and challenge that has come my way. I work with a great bunch of people and for a great company."
Artiga was recognized as a driving force in the development and performance of the company's team in Central America. In addition Crowley said, "Miguel is always working very hard in the logistics arena and looking for new ways to do things as we go after new business. He stays close to customers to understand their needs and then matches that with Crowley's capabilities."
"This has been a tremendous journey, but I think the best is yet to come," said Artiga, who is celebrating 25 years with the company. "There are a lot of talented and devoted people at Crowley, so I really feel humbled and proud at the same time to accept the award."
Harrison, who lives in Seattle, Wash., began her career at Crowley in 1981, and today as director of human resources, is responsible for talent acquisition and employee relations for the entire stateside administrative employee population. During her 32 years with Crowley, Harrison has held various professional and managerial roles of increasing responsibility within human resources, both regionally and at the corporate level. She is a certified Professional in Human Resources (PHR) through the Society for Human Resource Management.
Artiga, domiciled in Guatemala City, Guatemala, joined Crowley in 1988 in El Salvador, and has held various positions in sales and general management for Crowley in Ecuador, Honduras and Guatemala. In 2005, he was promoted to vice president for the logistics group in Central America. He holds a bachelor's degree in business administration from Universidad Politécnica, El Salvador.
Jacksonville-based Crowley Holdings Inc., a holding company of the 121-year-old Crowley Maritime Corporation, is a privately held family and employee-owned company. The company provides project solutions, transportation and logistics services in domestic and international markets by means of six operating lines of business: Puerto Rico/Caribbean Liner Services, Latin America Liner Services, Logistics Services, Petroleum Services, Marine Services and Technical Services. Offered within these operating lines of business are: liner container shipping, logistics, contract towing and transportation; ship assist and escort; energy support; salvage and emergency response through its TITAN Salvage subsidiary; vessel management; vessel construction and naval architecture through its Jensen Maritime subsidiary; government services, and petroleum and chemical transportation, distribution and sales. Additional information about Crowley, its subsidiaries and business units may be found on the Internet at www.crowley.com.