Love is in the Air at CrowleyFresh
110 Pallets of Colombian Roses Delivered to U.S. Markets at Peak Freshness for Valentine's Day
(MIAMI; February 13, 2013) – CrowleyFresh, Miami's newest cold-chain warehouse and logistics service, jointly offered by Crowley Maritime Corporation and subsidiary Customized Brokers, recently showed a little love to customer Sunshine Bouquet Company, a flower supplier based in Miami, by storing 110 pallets of fresh Colombian roses in advance of Valentine's Day. The colorful, fragrant and perishable cargo was stored in CrowleyFresh's 17,000 square-foot cold storage facility and the flowers were released to the U.S. market just in time for the holiday.
CrowleyFresh is a partnership between Crowley and Customized Brokers that bundles individual cold-chain storage and logistics offerings into one comprehensive solution. The cold storage facility features multiple humidity and temperature-controlled coolers and is open 24/7 to accommodate perishables being imported and exported to/from Latin America, the Caribbean, Europe, Asia and the Far East and South Florida. The state-of-the-art facility is ideal for perishable storage or may be used as an in-transit consolidation/deconsolidation point. With 400,000 total cubic feet of refrigerated space, the facility offers additional storage space for dry, non-perishable cargo.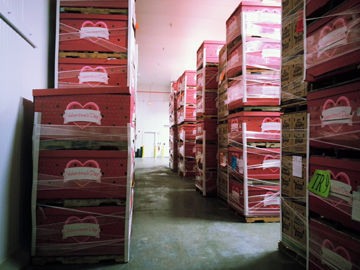 When you're shipping temperature-sensitive goods, like flowers or chocolates for Valentine's Day, every second counts. Shippers of perishables need a reliable and committed cold-chain logistics partner who has industry-leading specialized equipment and experience," said Crowley's Nelly Yunta; vice president; sales, marketing and customer care. "We love that we can offer this and more, including a diverse suite of additional logistics capabilities, such as Customs brokerage, air freight and trucking services, any day of the year, but especially on Valentine's Day!"
Crowley Fresh is located at 11401 NW 100th Road, Medley, FL 33178. Customers may contact the Crowley Fresh team by calling 305-463-4800 or 305-720-5127 (after hours).
Jacksonville-based Crowley Holdings Inc., a holding company of the 121-year-old Crowley Maritime Corporation, is a privately held family and employee-owned company. The company provides project solutions, transportation and logistics services in domestic and international markets by means of six operating lines of business: Puerto Rico/Caribbean Liner Services, Latin America Liner Services, Logistics Services, Petroleum Services, Marine Services and Technical Services. Offered within these operating lines of business are: liner container shipping, logistics, contract towing and transportation; ship assist and escort; energy support; salvage and emergency response through its TITAN Salvage subsidiary; vessel management; vessel construction and naval architecture through its Jensen Maritime subsidiary; government services, and petroleum and chemical transportation, distribution and sales. Additional information about Crowley, its subsidiaries and business units may be found on the Internet at www.crowley.com.