Kyra Roca Presented with Crowley's Highest Honor, the Thomas Crowley Award
(JACKSONVILLE, Fla.; Nov. 9, 2015) ­– Crowley Maritime Corp.'s Kyra Roca, vice president, customer care, was presented with the 2014 Thomas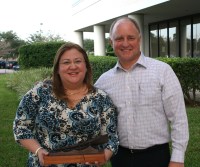 Crowley award, the company's highest honor, at a ceremony held yesterday at the company's Jacksonville, Fla., office.
Roca joins Capt. David Ridge, director of marine operations in Valdez, Alaska, as the second and final Thomas Crowley Award recipient for 2014. Ridge was presented his award in Anchorage, Alaska last month.  
The exclusive employee recognition program was created in 1985 and only 61 of the company's more than 5,300 employees have received the award symbolized by a limited edition bronze sculpture, which depicts company founder Thomas Crowley ferrying goods to and from ships on San Francisco Bay in the early 1890s. The trophy serves not only as a tribute to the founder of the company, but also to those honorees who have aligned themselves closely with the company's values displaying outstanding performance, dedication, leadership and initiative.
Crowley's Chairman, President and CEO Tom Crowley Jr., the grandson of the company's founder, presented the award yesterday before more than 125 employees and senior leaders who had gathered from around the world for the event. Included in the audience were 11 past recipients of the coveted award.
Roca was selected for the award because of her remarkable team-building capabilities and leadership skills, which were demonstrated during the promotion of Crowley's recent Everyday Heroes customer care week. The promotion celebrated the good work of the company's client-facing employees and raised awareness throughout the organization of the critical nature of their jobs.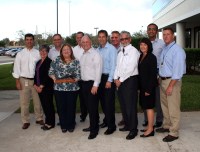 "Kyra has certainly had an amazing impact on the company," said Crowley. "When she was promoted to manager of freight services, I think that was a bit of a risk – promoting someone from a staff role into such a highly demanding position, but we knew that her ability to bring people together to achieve a common goal would have an amazing impact. What we underestimated at that time were her leadership skills. She's developed into an amazingly good leader. We recently saw the results of her employee recognition and the huge impact that had on the company."
"This has been an amazing ride, with all the opportunities to develop myself and the wonderful people I work with, in the U.S. and in other countries," said Roca. "I am very, very honored to have these amazing opportunities and to work for this company."
Roca joined Crowley in 2008 as a senior planning analyst. In 2010, the position changed to senior analyst, process excellence, and in the same year she was promoted to manager, freight services, liner and logistics. In 2011, she was promoted to director and, in 2015, she was named vice president, customer care, liner and logistics. Prior to Crowley, she held a wide variety of roles with Verizon, North Memorial Medical Center and the Barcelo Group. Roca has a bachelor's degree in industrial engineering from the Santo Domingo Institute of Technology and a master's of business administration from the University of Minnesota. 
Jacksonville-based Crowley Holdings Inc., a holding company of the 123-year-old Crowley Maritime Corporation, is a privately held family and employee-owned company. The company provides marine solutions, energy and logistics services in domestic and international markets by means of six operating lines of business: Puerto Rico Liner Services, Caribbean and Latin America Liner Services, Logistics Services, Petroleum Services, Marine Services and Technical Services. Offered within these operating lines of business are: liner container shipping, logistics, contract towing and transportation; ship assist and escort; energy support; salvage and emergency response through its 50 percent ownership position in Ardent Global;  vessel construction and naval architecture through its Jensen Maritime subsidiary; global ship management; government services, and petroleum and chemical transportation, distribution and sales.  Additional information about Crowley, its subsidiaries and business units may be found on the Internet at www.crowley.com.
#     #     #