Jensen Maritime to Design Two New Escort Tugs for McAllister Towing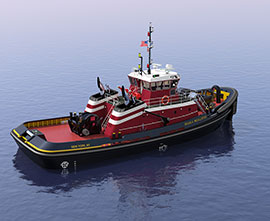 (SEATTLE; Feb. 2, 2016) ­– Jensen Maritime, Crowley Maritime Corp.'s Seattle-based naval architecture and marine engineering company, was recently selected to provide detailed design services including stability, structure and systems design for two, 100-foot long, 40-foot wide, escort tugs for McAllister Towing. The 12-knot, 6,770-horsepower tugs will be constructed at Horizon Shipbuilding, Inc., in Bayou LaBatre, Ala., and are scheduled for delivery in 2017.
The Brian A. McAllister and the Rosemary McAllister will be the 31st and 32nd ocean going escort/rescue tugboats in the fleet respectively, but will be the first that are Tier IV, meaning they utilize high-efficiency catalytic after-treatment technology to reduce emissions.  Powered by twin Z-drive propulsion units, the tugs will have an approximate bollard pull of 90 short tons, making them suitable for offshore service, ship assist, escort, maneuvering and docking. Both tugs will be Load Lined and Classed by the American Bureau of Shipping as +A1, Towing, Escort, +AMS, and FFV-1.
"Since 2001, Jensen has designed 13 tugs for McAllister's fleet," said Johan Sperling, vice president, Jensen. "Their continued reliance on our knowledgeable naval architecture and marine engineering services proves that we are a trusted and effective, long-term partner for fleet development and refurbishments."
About Jensen Maritime
Seattle-based Jensen Maritime Consultants, Inc., is a naval architecture and marine engineering firm owned by Crowley Maritime Corporation. The company offers a diverse range of consulting, design and engineering services developed from more than 50 years of experience working around the world. Jensen is a recognized leader in the design of all types of vessels – particularly workboats, fishing boats and fireboats – and has built a favorable reputation on a long history of successful designs and conversions with close attention to engineering basics. The company's services include detail and conceptual design and engineering, lofting, regulatory and shipyard liaison as well as on-site consulting services and on-location assistance anywhere in the world. Additional information about Jensen can be found on the Internet at www.jensenmaritime.com.
#     #     #