Jensen Maritime Providing Detailed Design and Production Engineering for Two U.S. Flagged Cruise Ships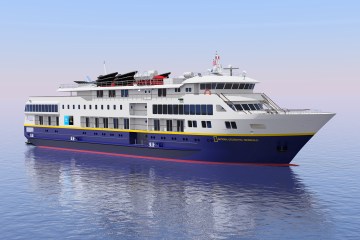 (SEATTLE, January 26, 2016) ­– Jensen Maritime, Crowley Maritime Corp.'s Seattle-based naval architecture and marine engineering company, was recently selected to provide detailed design and production engineering services for two, 100 passenger, U.S. flagged, coastal cruise ships for Lindblad Expeditions Holdings, Inc. The twin screw diesel ships, will be built at the Washington state shipyard of Nichols Brothers Boat Builders (NBBB) and have planned delivery dates of second quarter 2017 and 2018.  Once complete, the $94.8 million duo will operate tours between Baja, Costa Rica and Panama during the winter months and southeast Alaska, Oregon, Washington and Canada during the summer months.
For this project, Jensen will utilize its innovative 3D modeling capabilities to allow Lindblad the unique opportunity to confirm the vessel's layout, maintenance envelopes and operational access prior to construction. The group will combine all the details of the structural, electrical, mechanical and HVAC systems of the vessel into one comprehensive, full-size 3D, computer model resulting in a virtual vessel that can be inspected early in the design process for safety, maintainability and constructability.
"We at Jensen are pleased to showcase our full service design and production engineering services for this exciting new build project," said Johan Sperling, vice president, Jensen.  "With our 3D capabilities, the customer will have virtually walked every deck and inspected every system long before stepping onto the vessel and long before each system is installed, giving them further confidence that this ship will be exactly the high quality passenger vessel they intended."
"These new ships mark an exciting step in the long-term growth of the company, and enable us to capitalize on the substantial demand for our expeditions," said Sven Lindblad, president and CEO of Lindblad.  "With our significant resources we can continue to deliver on our promise of expedition travel at its best, and can now expand our unique offerings in the Americas where we have very strong demand."
Some key features of the new 238-foot ships include:
50 cabins, fitness room and spa.

An outdoor walkway around the entire sun deck, which will feature dining and entertainment facilities.

State-of-the-art expedition technology, including a remotely operated vehicle (ROV), video microscope, hydrophone and bow-cam, full warm and cold water diving gear and underwater cameras. 
About Lindblad Expeditions Holdings, Inc.
Lindblad Expeditions Holdings, Inc. is an expedition travel company that works in partnership with National Geographic to inspire people to explore and care about the planet. The organizations work in tandem to produce innovative marine expedition programs and to promote conservation and sustainable tourism around the world. The partnership's educationally oriented voyages allow guests to interact with and learn from leading scientists, naturalists and researchers while discovering stunning natural environments, above and below the sea, through advanced exploration tools.
About Nichols Brothers Boat Builders
Nichols Brothers Boat Builders is a complete new-build shipyard and full-service repair facility with more than 50 years of experience on Whidbey Island in Washington State. Nichols Brothers specializes in steel and aluminum vessel construction, repair and major conversions. Nichols Brothers' 12-acre shipyard is capable of complete vessel construction from production engineering to turn-key delivery, with full service production departments to include: Ship Fitting, Production Welding, Pipe Systems, Electrical, Joinery, Machine, Paint and HVAC, Operators, and production support. Nichols Brothers' vessel construction portfolio demonstrates the shipyard's dedication to quality craftsmanship, vessel performance, and passion for boatbuilding.
About Jensen Maritime
Seattle-based Jensen Maritime Consultants, Inc., is a naval architecture and marine engineering firm owned by Crowley Maritime Corporation. The company offers a diverse range of consulting, design and engineering services developed from more than 50 years of experience working around the world. Jensen is a recognized leader in the design of all types of vessels – particularly workboats, fishing boats and fireboats – and has built a favorable reputation on a long history of successful designs and conversions with close attention to engineering basics. The company's services include detail and conceptual design and engineering, lofting, regulatory and shipyard liaison as well as on-site consulting services and on-location assistance anywhere in the world. Additional information about Jensen can be found on the Internet at www.jensenmaritime.com.
For more information about Jensen's parent company, Crowley, please visit www.crowley.com.
# # #