Jensen Maritime Designs Two ASD Tugs for Crescent Towing
New Design Includes Increased Horsepower and Stability with Improved Constructability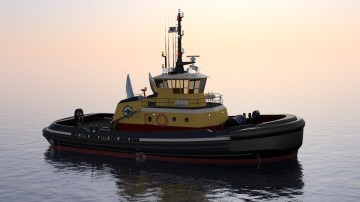 (SEATTLE, Wash.; December 2, 2014) – Jensen Maritime, Crowley Maritime Corp.'s naval architecture and marine engineering firm, is providing customer Crescent Towing of New Orleans, La., designs for two, new Azimuth Stern Drive (ASD), 5,360 horsepower tugboats. The designs are based on Jensen's existing 92-foot ASD tug design, which has been driven by vessel performance and construction efficiency. The tugs are the fourth and fifth vessels Jensen has designed for Crescent, with the most recent design having been delivered in 2010.
"The high horsepower and compact, deep-draft design of the 2010 tug allows us to better serve a wide variety of our customer's current and future needs in all aspects of ship assist," said Keith Kettenring, Crescent Towing's executive vice president.
Improvements made in the new designs will yield more horsepower and increased stability during the tugs' operation. Additionally, a modified staple placement is expected to increase steering forces by approximately 30 percent. To accommodate this increase, the tow point will be lowered and allowed to move further off center, increasing stability in working modes. Increased brake tension on the bow winch will also accommodate the increased steering forces. Finally, in the new design, tankage is divided to better control liquids on board, which will also improve stability and trim control.
"Horsepower is important for safety due to the increasing size, tonnage and draft of the ships calling on our ports now and in the future," said Kettenring. "Horsepower is needed to better control these ships to avoid accidents and environmental casualties."
"We customize each of our vessel designs to suit our customers' needs," said Johan Sperling, vice president, Jensen. "Jensen's capabilities really excelled on this project as we were successful in finding ways to improve both the efficiency and performance of this tug for the customer."
For this project, and many others like it, the naval architects at Jensen took functional design to the next level by incorporating all the details of the structural, electrical and mechanical and HVAC systems into a full-size 3D model through a process called production engineering. This resulted in a virtual vessel that could be inspected early in the design process for safety, maintainability and constructability. Jensen provided Crescent Towing all the structural assembly drawings and part nests (construction blueprints), which will drive the process of cutting and laying out steel pieces to minimize waste during construction of the new tugs.
The 70 metric ton bollard pull tugs, which will be built by Steiner Shipyard in Bayou La Batre, Ala., can operate in a variety of modes making them capable of towing, ship assist and escort duties. The vessels are outfitted with Tier 3 GE 8L250 main engines and Rolls-Royce US 255FP Z-drives.
The tugs are scheduled for delivery in November 2015 and January 2016.
Seattle-based Jensen Maritime Consultants, Inc., is a full service naval architecture and marine engineering firm owned by Crowley Maritime Corporation. The company offers a diverse range of consulting, design and engineering services developed from over 50 years experience working around the world. Jensen is a recognized leader in the design of all types of vessels – particularly workboats, fishing boats and passenger ferries – and has built a favorable reputation on a long history of successful designs and conversions with close attention to engineering basics. The company's services include detail and conceptual design and engineering, lofting, regulatory and shipyard liaison as well as on-site consulting services and on-location assistance anywhere in the world. Additional information about Jensen may be found on the Internet at www.jensenmaritime.com.
Jacksonville-based Crowley Holdings Inc., a holding company of the 122-year-old Crowley Maritime Corporation, is a privately held family and employee-owned company. The company provides project solutions, energy and logistics services in domestic and international markets by means of six operating lines of business: Puerto Rico Liner Services, Caribbean and Latin America Liner Services, Logistics Services, Petroleum Services, Marine Services and Technical Services. Offered within these operating lines of business are: liner container shipping, logistics, contract towing and transportation; ship assist and escort; energy support; salvage and emergency response through its TITAN Salvage subsidiary; vessel management; vessel construction and naval architecture through its Jensen Maritime subsidiary; government services, and petroleum and chemical transportation, distribution and sales. Additional information about Crowley, its subsidiaries and business units may be found on the Internet at www.crowley.com.
#     #     #