Jensen Maritime Continues Evolution into Full Service Naval Architecture and Marine Engineering Solutions
As the City of San Francisco commissions its latest fireboat today, the vessel, designed by Seattle-based Jensen Maritime Consultants, exemplifies the evolution and growth of the naval architecture and marine engineering firm since it was acquired by Crowley Maritime Corp. in 2008.
"Eight years ago I'm not sure this project would have been in our sweet spot," said Johan Sperling, vice president of Crowley's marine solutions group, which includes Jensen. "But over the past eight years, Crowley has made a considerable effort to give us all the tools we need to expand into new areas. And our team, which has grown from 21 employees in Seattle 2008 to 85 employees today with additional offices in Jacksonville, Houston and New Orleans, is leveraging those resources and collective expertise to perform larger and more complex projects with outstanding outcomes that benefit our customers like the San Francisco Fire Department."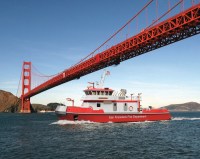 San Francisco's Fireboat 3, recently named one of the 10 Significant Boats of 2016 by WorkBoat magazine, is designed and engineered to meet the highest standards for performance and public safety thanks to Jensen's talented naval architects and engineers and industry-leading, computer-aided design programs, which allow customers to see a vessel in detail before it is built. In addition, Jensen is able to leverage Crowley's knowledge as a vessel operator to design vessels for clients that are extraordinary to operate.
"It's one thing to be able to design a good looking boat, but if it can't be built efficiently and cost effectively, and if it doesn't operate the way it is supposed to, what do you really have?" said Sperling. "We are intensely focused on those three things. Crowley, as a long-time operator of many different types of vessels, gives us unique insights into what works and doesn't work when it comes to things like a vessel's layout, systems and seakeeping ability. We're able to take all of that first-hand knowledge and incorporate it into our designs for customers. It's a process of always enhancing our expertise and services that never ends."
Prior to being acquired by Crowley, Jensen, founded in 1961, had established a reputation for executing dependable, high performance naval architecture and marine engineering for commercial fishing boats and was beginning to do the same with workboats and passenger vessels.  
Now, Jensen has built on those well-known services to offer transportation engineering, construction management solutions, and performance engineering services, which ensure designs meet the best standards from concept phase to sailing.
An entire vessel can be designed in 3D on a computer, engineered and delivered in a comprehensive product to the shipyard for construction. Using advanced technology, Jensen provides computational fluid dynamics that allows customers to receive highly optimized hull forms by measuring how the sea's impact on the hull affects performance.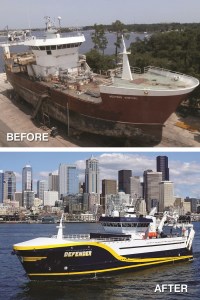 For example, Jensen helped deliver the redesign of the fishing vessels Bering Defender in 2012 and Defender in 2016. For the Bering Defender, Jensen teams developed changes to make it safer and more efficient, while increasing capacity. For the Defender, Jensen executed a design to convert the ship from East Coast to West Coast fishing, changes that made the vessel better suited for the operations and weather of her new Alaska fishing assignment.
After joining Crowley, Jensen's expertise also expanded to help spearhead transportation engineering projects such as the Liberty Sealift in 2010. That became a milestone in Jensen's history because of its complexity as a transportation engineering project, said Sperling. Jensen was part of the team behind the transportation of the huge rig, which weighed 6,234 tons, came in six pieces, and had to be carried on two of Crowley's heavy-lift deck barges from Vancouver, Wash., to a drilling island east of Prudhoe Bay, Alaska. It was one of the largest pieces of equipment ever constructed for North Slope oil exploration.
Another milestone was the company's successful role in the massive salvage of the Costa Concordia cruise ship off the coast of Italy from 2012 to 2014. Jensen provided project management specialists, designers, engineers and heavy logistics managers. And in 2015, Jensen had a key role in the installation of the Furie Kitchen Lights natural gas production platform and underwater pipeline in Cook Inlet, Alaska. Jensen personnel supported all logistical engineering components of transporting the equipment in environmentally challenging conditions for Crowley Marine Solutions, the prime contractor for the project.
Their success has only continued this summer. Faced with meeting a deadline within the short summer of Alaska for a large-scale ocean delivery, Crowley's marine solutions group, supported by Jensen, successfully transported and delivered a drill rig from Vancouver, Wash., to Prudhoe Bay, Alaska.
The knowledge sharing between Jensen and Crowley team members has been very powerful, said Sperling.
"Jensen team members have gained experience working in marine operations and vessel construction management," he said. "By spending time in those endeavors, Jensen is able to provide its customers with better designs that are more efficient to build and operate. In fact, efficiencies are gained from beginning to end."
For example, Sergio Fifi, Jensen's general manager in New Orleans, spent two years managing vessels in Alaska for Crowley. That experience benefits customers, because he understands the practical needs of vessels operators at sea. He and his colleagues also have a better understand of the classification process and customer needs when dealing with the American Bureau of Shipping.
"For our customers, they avoid baked-in problems running from the design process to the shipyard," said Fifi. "Crowley's successful operation of more than 200 diverse vessels provides us a deeper understanding to tie the design to the performance of the ship. For me and others in our organization, our experience in vessel operations and management provide practical knowledge to make the construction process and regulatory approvals the most efficient in the marketplace."
Recently, Jensen became part of Crowley's marine solutions group to further enhance the overall company's multitude of engineering services and contractor capabilities. Jonathan Parrott, director, new design development, has seen Jensen's capabilities grow from a small firm that handled mainly fishing boats in 1979, then to tugs, ferries and high speed vessels, and finally to a business that drives innovation in public safety, transportation engineering and other sectors.
 "There are very few companies that provide the full range of service that we do," said Parrott. "The capability of people in Jensen to go into different types of projects provides a one-stop solutions for customers. And it is hard to name anyone else who has developed and innovated in the successful way that Jensen and Crowley's marine solutions group has done."
About Jensen Maritime
Seattle-based Jensen Maritime Consultants Inc. is a naval architecture and marine engineering firm owned by Crowley Maritime Corporation. The company offers a diverse range of consulting, design and engineering services developed from more than 50 years of experience working around the world. Jensen is a recognized leader in the design of all types of vessels and has built a favorable reputation on a long history of successful designs and conversions with close attention to engineering basics. The company's services include detail and conceptual design and engineering, vessel modifications, lofting, regulatory and shipyard liaison as well as on-site consulting services and on-location assistance anywhere in the world. Additional information about Jensen can be found at jensenmaritime.com.
For more information about Jensen's 124-year old parent company, Crowley, please visit crowley.com.