Jensen Maritime Announces Retirement of Former President Sue Williams
(Seattle, Wash., September 27, 2012) ­– Jensen Maritime, a Crowley Maritime company, announced today the retirement of former president and part-owner Sue Williams, who spent more than three decades helping to shape the direction of the company.
Williams joined Jensen in 1980, under the leadership of founder and majority owner Ben Jensen, with initial responsibilities for managing the front desk. That year the firm was a partnership, with Ben Jensen as majority owner. In 1981, a majority interest in Jensen was purchased by a Norwegian-owned firm, which then bought Ben Jensen's stake in the company after his death in 1983. Williams chose to stay on staff, managing the financial affairs of the company, and was given a 5 percent stake in the successful firm. Gradually Williams, along with others in the company, bought out the Norwegian partners, and by 1993, Williams became the president and majority owner of Jensen. She maintained the role until 2005, when Jonathan Parrot assumed the position of president.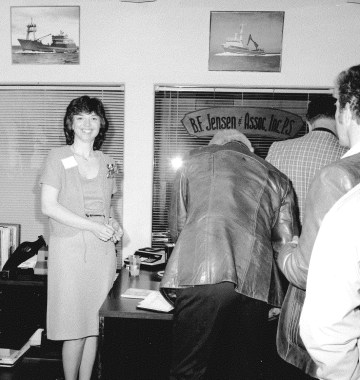 In 2008, Jensen was purchased by Crowley and today the two companies share an office on Pier 17 in Seattle. Jensen is now under the direction of Vice President Johan Sperling, who Williams helped to hire in 2001. Throughout the changes, Williams remained on staff and in recent years has served the company as the director of finance and a business analyst.
Under Sperling's leadership, Jensen has opened two additional offices – one on the East Coast in Jacksonville, Fla., and another in New Orleans, La., – and has embraced its role as a recognized leader in naval architecture and marine engineering.
"What many people don't realize is that Sue is truly a self-made woman. She worked very, very hard to build the foundation for the company that Jensen is today," said Sperling. "As one of the few women in this industry, she accomplished an incredible amount. It's important for us to take the time to celebrate her contributions to this company now that she's retiring."
"Sue humanized Jensen," said Parrott, now vice president for all of Jensen's new vessel designs. "She installed the 'family feel' for the organization and was very personable and approachable. Not only did we all have respect for her, but she earned it from so many in the industry, as well. We are sad to see her leave the company but are grateful for her efforts."
Prior to working at Jensen, Williams worked in the accounting department of a marine equipment supplier and studied business at the University of Washington before earning her B.A. in organizational management from Northwest University.
About Jensen Maritime
Seattle-based Jensen Maritime Consultants, Inc., is a naval architecture and marine engineering firm owned by Crowley Maritime Corporation. The company offers a diverse range of consulting, design and engineering services developed from more than 50 years of experience working around the world. Jensen is a recognized leader in the design of all types of vessels – particularly workboats, fishing boats and fireboats – and has built a favorable reputation on a long history of successful designs and conversions with close attention to engineering basics. The company's services include detail and conceptual design and engineering, lofting, regulatory and shipyard liaison as well as on-site consulting services and on-location assistance anywhere in the world. Additional information about Jensen may be found on the Internet at www.jensenmaritime.com.
Caption, top photo: Williams with Jensen's John Hveding, senior naval architect and fellow former part-owner of the company.
Caption, bottom photo: Williams at a Jensen open house in 1980.