Jensen Designs Two New Tugs and a Deck Barge for Harley Marine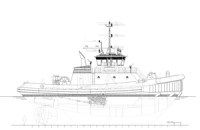 (SEATTLE, February 22, 2013) ­– Jensen Maritime, Crowley Maritime Corp.'s Seattle-based naval architecture and marine engineering company, recently completed the designs of two new ASD tugs, based on the popular Valor tugboat design, and a 250' x 70' x 15' 8" deck barge for customer Harley Marine, a Seattle-based marine transportation provider. The tugs, named Robert Franco and Ahbra Franco, will provide tanker escort and ship assist services along the U.S. West Coast once delivered. The barge, Iliuliuk Bay, will transport a wide variety of cargo between Dutch Harbor and Akutan, Alaska, with up to three runs per week.
Jensen designed the two new industry-setting tugboats similarly to the classic Valor concept, but upgraded them with Tier 3 Cat 3516C engines and Rolls-Royce US 255 Z-drives. But the vessels still maintain the perks of the Valor, such as high horsepower in a compact package, a large fuel capacity for long trips, comfortable crew accommodations and a spacious engine room.  The tugs will also feature an anchor windlass and chain locker, as well as a Markey TES-40 winch. Additionally, Jensen designed the pair of tugs with some of the most advanced safety features in the industry, including a pair of 900 GPM fire pumps and monitors, which will be powered from an on-board generator. Ice plating has also been added to the hulls to ensure safety while working in light ice conditions.
The Iliuliuk Bay will house a 230-ton lift capacity Manitowoc 4100 crawler crane. The vessel's design features both D-rings to secure containers up to three high as well as eight lashing bars running fore and aft for other cargo such as heavy construction machinery or general equipment.
The Robert Franco and Ahbra Franco are now under construction at Nichols Brothers Boat Builders, of Freeland, Wash., and are expected to be delivered in March and July respectively.
The Iliuliuk Bay is also under construction by U.S. Fab, in Vigor's Swan Island shipyard in Portland, Ore. The barge is scheduled for delivery later this year.
"We are pleased to add three new workhorses to the Harley Marine fleet," said Jensen's Johan Sperling, vice president. "It has been a great pleasure for us to work so closely with our customers during the design and construction of these boats. We look forward to seeing them in action."
Bryan Nichols, sales manager at Vigor Industrial, said about the barge development: "Having the ability to collaborate with Jensen and Harley during the initial production design for this barge, will allow us to have maximum efficiency during construction. We were able to combine shipbuilding best practices with Jensen's considerable design expertise and Harley's requirements to finalize a cost effective, buildable design with quick turnaround."
Seattle-based Jensen Maritime Consultants, Inc., is a full service naval architecture and marine engineering firm owned by Crowley Maritime Corporation. The company offers a diverse range of consulting, design and engineering services developed from 50 years experience working around the world. Jensen is a recognized leader in the design of all types of vessels – particularly workboats, fishing boats and passenger ferries – and has built a favorable reputation on a long history of successful designs and conversions with close attention to engineering basics. The company's services include detail and conceptual design and engineering, lofting, regulatory and shipyard liaison as well as on-site consulting services and on-location assistance anywhere in the world. Additional information about Jensen may be found on the Internet at www.jensenmaritime.com
# # #