Jensen Designing Two Tugboats for Caribbean TugZ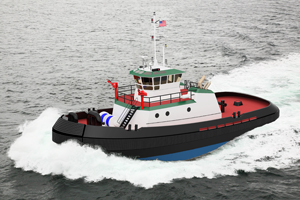 (SEATTLE, Dec. 21, 2011) – Jensen Maritime Consultants, a Crowley subsidiary, recently started the design of two 92-foot, 50-ton-bollard-pull Azimuth Stern Drive (ASD) tugboats for Caribbean TugZ, an affiliate of SEACOR Holdings Inc., for operation in the Caribbean and Gulf of Mexico.
The tugs are being specifically designed with environmental protection in mind. Oil tanks are being isolated from the hull, which reduces the chances of an oil spill in the event the hull is breached. This feature is neither standard nor required, but was added to protect the environmentally sensitive areas where these vessels will operate.
Adding the custom safety feature required Jensen to redesign and alter many areas of the vessels' basic structural design and piping systems.
"We are pleased and appreciative to have the opportunity to work on these environmentally friendly boats," said Johan Sperling, vice president of Jensen. "Our work illustrates our commitment to providing solutions for customers no matter the scope. Projects like this one continue to help define Jensen as the industry leader in vessel engineering and design."
The pair of tugboats, which will be built at Great Lakes Shipyard in Cleveland, will meet a wide range of operational parameters, including ship assist, tanker escort, and emergency firefighting duties. They will be outfitted with a pair of Caterpillar C280-6 Tier 2 diesel engines, rated at 2,320 hp at 900 RPM each, and two Rolls-Royce US 205FP Z-drives with 90″ diameter wheels. The package will give each tug an estimated running speed of 12 knots.
Additionally, the tugs feature full Fire Fighting Vessel-Type 1 (FFV1) class capabilities, and are equipped with a pair of 5,200 gpm monitors equipped for foam; double-skinning all-oil tanks; a JonRie double-drum winch to provide full back up for ship handling; and an independent black water tank to minimize corrosion of the hull plate.
Seattle-based Jensen Maritime Consultants, Inc., is a full service naval architecture and marine engineering firm owned by Crowley Maritime Corporation. The company offers a diverse range of consulting, design and engineering services developed from 50 years experience working around the world. Jensen is a recognized leader in the design of all types of vessels – particularly workboats, fishing boats and passenger ferries – and has built a favorable reputation on a long history of successful designs and conversions with close attention to engineering basics. The company's services include detail and conceptual design and engineering, lofting, regulatory and shipyard liaison as well as on-site consulting services and on-location assistance anywhere in the world. Additional information about Jensen may be found on the Internet at www.jensenmaritime.com.
Visit www.crowley.com to learn more about Crowley.
# # #