Jensen-Designed Work Boat for Port of Milwaukee Delivered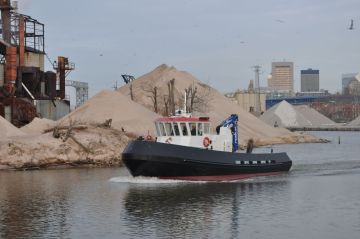 Great Lakes Shipyard (Cleveland, OH) completed construction of a Jensen-designed 60-foot work boat for the Port of Milwaukee. The vessel sailed from Cleveland and was delivered to the port on Tuesday.
The vessel was designed by Jensen, a Crowley Maritime Corp. company based in Seattle, Wash., to include general harbor work, icebreaking, salvage, and dive operation capabilities. The workboat is equipped with a DMW Telescopic Boom Marine crane; it also has specialized lighting and equipment for harbor security work. The workboat is powered by a single 405 HP Cummins QSK11 Tier II diesel engine and has a maximum speed of 10 knots.
Great Lakes Shipyard was awarded the contract by the city in June 2011.