Jensen Completes Tugboat Design Work for Harley Marine

Vessel One of the First to be Equipped with Environmentally Friendly Tier III Engines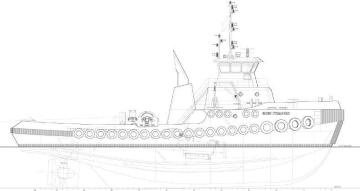 (SEATTLE; Aug. 1, 2011) – Jensen Maritime Consultants, Inc., recently completed the custom design work for the Bob Franco, a new Azimuth Stern Drive (ASD) tugboat for Harley Marine Services. The vessel – measuring 120 feet in length and 35 feet in width – is one of the first to be powered by Tier III CAT C175 engines, which have lower emissions than Tier II models, making it a more environmentally friendly option. Construction on the vessel is underway at Diversified Marine, Inc., in Portland, Ore., and is expected to be completed in 2012.

"The construction of a tugboat that meets Tier III emissions compliance is a great step forward in environmental protection for our industry," said Jensen's Johan Sperling, vice president. "It was important for us to design a powerful and capable tugboat for Harley, but also one that takes care of the environment in the process."

Bob Franco, which will be home ported in Seattle, will have a crew capacity of 13. The vessel is the fourth in a series of these tugboats designed by Jensen. The first three were designed and built for Western Towboat in Seattle.

"Being selected to design this tugboat was an honor," said Sperling. "We look forward to seeing it in action and know that Harley Marine Services will be very pleased with the design, quality and performance."

Harley Marine Services has been recognized for its environmental initiative, commitment and stewardship. Since 2009, they have been awarded four major environmental awards: the 2011 Marine Environmental Business of the Year for Environmental Initiative from the Port of Seattle and Propeller Club of Seattle; first place for Environmental Initiative in the 2010 WorkBoat Environmental Awards; the 2010 EPA Environmental Quality Award (the first Marine Environmental Award from the EPA); and third place for Environmental Management System in the 2009 WorkBoat Environmental Awards.

Some of the environmental initiatives have included an aggressive overhaul and replacement program to upgrade tugboat engines to reduce NOx emissions, a new generation of patented barge mounted Vapor Recovery Units that exceeds all air quality requirements, and a very robust Environmental Management System which has been implemented in all segments of the company. Harley Marine Services has attained International Organization for Standardization (ISO) 14001 Environmental Certification for all subsidiary companies including tugs, barges, shops and offices, in addition to ISO 9001 Safety Management System and American Waterways Operators – Responsible Carrier Program.

Harley Marine Services is a full service marine transportation company providing quality services along the United States West Coast, Alaska, New York/New Jersey Harbor and the U.S. Gulf. Services provided include the transportation and storage of petroleum products, ship assist and escort, and the transportation of general cargo. Harley Marine companies aim to set the benchmark for quality operations by outstanding safe, responsible, reliable and efficient performance in the marine transportation and petroleum industries. For more information, please visit www.harleymarine.com.

Diversified Marine, Inc. (DMI), builder of Bob Franco, has been offering build, repair and drydocking services to the maritime community on the Pacific Rim for three decades. Located in Portland, Ore., DMI's unique fresh-water facility, crane capacities and an exceptional workforce allow them to be the leader in quality construction of high-powered tugs. For more information, please visit www.dmipdx.com.

Seattle-based Jensen Maritime Consultants, Inc., is a naval architecture and marine engineering firm owned by Crowley Maritime Corporation. The company offers a diverse range of consulting, design and engineering services developed from 50 years experience working around the world. Jensen is a recognized leader in the design of all types of vessels – particularly workboats, fishing boats and passenger ferries – and has built a favorable reputation on a long history of successful designs and conversions with close attention to engineering basics. The company's services include detail and conceptual design and engineering, lofting, regulatory and shipyard liaison as well as on-site consulting services and on-location assistance anywhere in the world. Additional information about Jensen may be found on the Internet at www.jensenmaritime.com.