If Online Retailers Won't Send Your Purchases Home to the Caribbean – Santa Recommends Crowley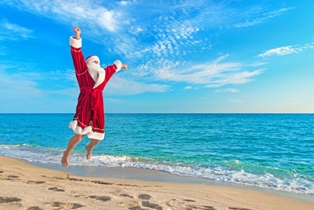 (MIAMI; November 27,2013) ­– It's that time of year again – Black Friday leading to Cyber Monday and all the shopping days beyond – when residents in the Caribbean try to figure out ways to get their purchases home on time without blowing huge holes in their wallets. Online retailers typically do not provide shipping to customers outside the United States, so what's an island resident to do? This year, Santa is recommending Crowley.
"Crowley really makes it easy for consumers in the islands," said Santa. "They can take your online purchases, or those that you make in-store when visiting the U.S. or Puerto Rico, and ship your treasures all the way home to your door."
"You bet – we work with Santa and island consumers to transport virtually any sized shipment – from small and medium-sized packages to home appliances, furniture, loaded pallets and more – to consumers throughout the Caribbean," said Tony Otero, Crowley vice president.
For consumers, getting shipments in motion is as easy as consigning their purchases (cargo) to Crowley.
Online shoppersshould follow these steps:
Use Crowley's Miami warehouse address – 10205 NW 108 Avenue, Suite 1; Miami, FL 33178 – as your shipping address when making purchases at popular websites. 

Specify that the shipment is to Crowley in care of (C/O) your name, or your company's name.

Once the purchase is complete, contact Crowley's Miami office at 305-463-4800, or teamcaribbean@crowley.com to provide the tracking number and a copy of the on-line invoice. 
Shoppers visitingMiamiin-person should:
Deliver purchases to 10205 NW 108 Avenue, Suite 1; Miami, FL 33178 where they will meet with a member of Team Caribbean and be walked through the process of delivery back to their door in the Caribbean.

Fill out a copy of Crowley's shipping instructions and provide a commercial invoice or store receipt.  
Shoppers traveling toPuerto Ricoshould:
Call 787-793-8575 or email ccl.traffic@crowley.com to arrange for pickup of large cargo within Puerto Rico or deliver smaller cargo to Crowley's warehouse in Guaynabo – Centro Internacional de Comercio, EDIF 13, CARR. 165 KM 2.4, Guaynabo, PR 00970

Fill out a copy of Crowley's shipping instructions and provide a commercial invoice or store receipt.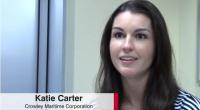 To view a video explaining these steps, click here.
With weekly sailings, cargo is taken from Miami, Fla., or San Juan Puerto Rico to the Caribbean island of residence where onsite, experienced logistics professionals can help to quickly clear packages through Customs for release to the customer picking up at the port, or can arrange for additional services, including door delivery, warehousing, consolidation, deconsolidation or even expedited air shipment to a secondary location.  A single-point of contact, availability of barrels and packaging materials, cargo insurance options and acceptance of credit cards makes the entire process, even simpler.  
Jacksonville-based Crowley Holdings Inc., a holding company of the 121-year-old Crowley Maritime Corporation, is a privately held family and employee-owned company. The company provides project solutions, transportation and logistics services in domestic and international markets by means of six operating lines of business: Puerto Rico/Caribbean Liner Services, Latin America Liner Services, Logistics Services, Petroleum Services, Marine Services and Technical Services. Offered within these operating lines of business are: liner container shipping, logistics, contract towing and transportation; ship assist and escort; energy support; salvage and emergency response through its TITAN Salvage subsidiary; vessel management; vessel construction and naval architecture through its Jensen Maritime subsidiary; government services, and petroleum and chemical transportation, distribution and sales. Additional information about Crowley, its subsidiaries and business units may be found on the Internet at www.crowley.com.
#     #     #