IbisTek Crowley Shares Logistics Solutions with Energy and Civil Infrastructure Reps during U.S. Embassy-Hosted Seminar in Ghana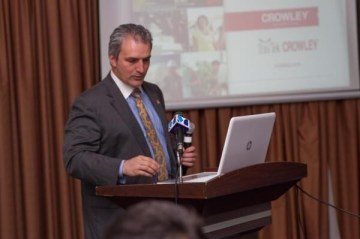 (Acra, Ghana; June 22, 2015) – IbisTek Crowley Limited – the joint venture between Crowley Maritime Corp. and IbisTek LLC to provide a comprehensive package of project logistics, energy support services and emergency response capabilities in Ghana – recently led a U.S. Embassy-hosted seminar geared towards equipping participants with logistics solutions in the region's energy and civil infrastructure sectors. The seminar, which drew in more than 60 representatives from 20 companies across the state, allowed IbisTek Crowley to share insight and best practices that can ultimately help Ghana realize the full potential of its offshore petroleum resources.
"Without competent and highly sophisticated maritime service providers like IbisTek Crowley, Ghana will be challenged to fully develop the economic potential of its offshore petroleum resources," said U.S. Ambassador to Ghana Gene Cretz. "[This partnership] between a strong global company and a well-established local firm is an effective approach to building capacity of Ghanaian companies and increasing their contribution to [Ghana's] development."
"We were honored to have been able to share useful information with local companies in need of logistics solutions for their businesses in West Africa," said IbisTek Crowley's Bleu Hillburn, director. "Together Crowley and IbisTek are uniquely suited to serve customers in this region with project management, shipping and logistics support, a wide array of diverse assets and more. It's a win-win for anyone needing support in these industries."
In late 2014, Crowley and IbisTek, LLC, announced the formation of their joint venture. The partnership, which meets the local standards required to be considered an "indigenous Ghanaian company," leverages Crowley's worldwide logistics footprint and project expertise and Ghana-based IbisTek's existing relationships and customer base in the region. 
The IbisTek Crowley office maximizes local participation in the oil and gas support sector through the staffing of Ghanaian national employees who will work closely with Crowley's U.S. counterparts to ensure that the company's culture and its values – which include safety, integrity and high performance – are fully adopted. This specialized team will be closely linked with Crowley's existing Houston-based warehouse and distribution center, which also provides international project logistics and global freight management services.
As a part of President Barack Obama's National Export Initiative, U.S. embassies are committed to supporting U.S. companies to start exporting or grow their exports to destinations around the world, including Ghana. 
About IbisTek
Formed in 2005, IbisTek is a wholly Ghanaian-owned company that provides packaged engineering solutions regionally. IbisTek Crowley's new office is located at 29 Josif Broz, Tito Avenue Cantonment, Accra, and can be reached at +233 30 703 1 997.
About Crowley Maritime Corp.
Jacksonville-based Crowley Holdings Inc., a holding company of the 123-year-old Crowley Maritime Corporation, is a privately held family and employee-owned company. The company provides project solutions, energy and logistics services in domestic and international markets by means of six operating lines of business: Puerto Rico/Caribbean Liner Services, Latin America Liner Services, Logistics Services, Petroleum Services, Marine Services and Technical Services. Offered within these operating lines of business are: liner container shipping, logistics, contract towing and transportation; ship assist and escort; energy support; salvage and emergency response through its TITAN Salvage subsidiary; vessel management; vessel construction and naval architecture through its Jensen Maritime subsidiary; government services, and petroleum and chemical transportation, distribution and sales. Additional information about Crowley, its subsidiaries and business units may be found on the Internet at www.crowley.com.
#     #     #
Caption: IbisTek Crowley's Bleu Hilburn speaking during the seminar.