Growing Number of Public and Private Maritime Entities Signed on to Participate in Upcoming Military to Maritime Career Event in Jacksonville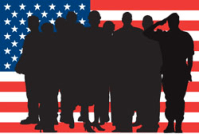 In a collaborative effort to raise awareness among current and former military personnel interested in transitioning into a maritime-related field, Military Sealift Command, SUNY Maritime College, Spectrum Logistics, Crowley Maritime, McAllister Towing, Kirby Marine Transportation, JAXPORT and more than a dozen other industry partners have been added to the impressive exhibitor lineup for the "Military to Maritime" career event in Jacksonville on June 4. The free event, which will be held at the JAXPORT cruise terminal, will provide attendees the opportunity to speak with hiring, licensing and union representatives, tour vessels, and hear first-hand accounts from current employees and crewmembers about careers in the industry.
"Exploring careers where your military experience, combined with VA-approved training, can lead to a six-figure income makes a lot of sense," said Capt. Robert Russo, CEO of Maritime License Training Co. and retired Navy Chief Warrant Officer. "I am happy to help guide transitioning men and women into an outstanding career path."
For some veterans of the armed forces, the transition from the military to civilian life is a smooth and relatively effortless process. But for others, life outside the military can feel overwhelming, especially for job seekers—learning how to apply skills they mastered during their service to the civilian workplace is amongst the biggest obstacles veterans face.
While the unemployment rate among veterans has steadily declined in recent years, over 720,000 servicemen and women are still out of work, according to the Bureau of Labor Statistics. The U.S. maritime industry's goal is to provide those veterans with an opportunity to maximize their professional strengths and learn about exciting career possibilities in a dynamic industry.
"I would encourage transitioning service members to use all of the services available to them," said Crowley Maritime's Wendy Norris, business technology manager and Marine Corps veteran. "It is a hard transition back to civilian life. I believe that the maritime industry, for those who served in a similar capacity, would be an easier transition than most, given that you still have a set of high standards, regulations and like-minded people."
All interested current and former military personnel are invited to the JAXPORT cruise terminal on June 4, 2014, between 1 p.m. and 5 p.m., for the event. For more information, contact the American Maritime Partnership, (202) 661-3740, or email info@Americanmaritimepartnership.com. The event is FREE, but for planning purposes, advance registration is highly recommended. To register online, visit http://bit.ly/military2maritime.
Maritime and maritime-related organizations interested in participating are also encouraged to register. Call (202) 661-3740 or email info@americanmaritimepartnership.com for more information.