Eisenhart and Hilburn Honored with Thomas Crowley Awards
Crowley Maritime Corporation's Jeannie Eisenhart, director of talent acquisition and employee services, and Bleu Hilburn, director of logistics business development, have been honored with 2015 Thomas Crowley Awards, the company's highest honor for its employees.
Eisenhart and Hilburn each received a limited edition bronze sculpture that depicts company founder Thomas Crowley ferrying goods in a row boat across San Francisco Bay in the early 1890s. The award serves not only as a tribute to the founder of the company, but also to those honorees who have aligned themselves closely with the company's values displaying outstanding performance, dedication, leadership and initiative.
Only 64 of the company's 5,000 employees have received the award since the program's inception in 1985. Chairman and CEO Tom Crowley Jr., grandson of the founder, presented the awards at the company's corporate office in Jacksonville, where both Eisenhart and Hilburn are based.
"My grandfather and family started this company almost 125 years ago. It's meaningful and wonderful that we have all been able to pull together and keep it going through a lot of hard work," said Crowley in presenting the trophies to the winners.  "This award is about recognizing people in the organization, those who are great role models, who take the extra step and put in the extra effort, those that we all look up to and wish and work to be more like."
Both winners make Crowley better through teamwork and their ability to successfully turn new ideas into effective business strategies.
"Jeannie has taken new responsibilities out of her comfort zone and has proven that no matter how good we are or how experienced we are, there's always something to learn," Crowley said.
Eisenhart has spearheaded technological advancements that improved the efficiency of travel and event planning essential for the entire company. With the in-house direction, the company estimates it saves $500,000 each year through internal, streamlined travel services for mariners and employees.
Eisenhart joined Crowley in 2005 as manager, corporate travel. In 2013, she became director of corporate travel, before being promoted to her current position earlier this year. She has a bachelor's degree in history from Southwest Missouri State University and a master's degree in hospitality and tourism from Florida International University. She was named in 2016 to the inaugural "Masters Honors" for the Global Business Travel Association which honors key leaders in the travel industry, and previously worked in travel management for May Merchandising Company and Aurora Foods.
"I'm honored and humbled to be receiving this award. Each day, thousands of deserving Crowley employees work hard to meet the needs of their customers," Eisenhart said. "Ultimately, this award is a reflection of the team I lead at Crowley. They go above and beyond to provide service to our co-workers at the office, when they travel, when they plan meetings or when they seek to recruit new colleagues."
Hilburn joined Crowley in 2012 after a career in the U.S. Army as a transportation and logistics officer. He retired after battalion command as a lieutenant colonel. He earned a bachelor's degree in marine transportation from the U.S. Merchant Marine Academy, a master's degree in business administration from Nova Southeastern University and a master's degree in military art and science from the United States Army Command and General Staff College.
"Since he has joined the company, Bleu has doubled down and has brought all his experience in the Army – the discipline and knowledge and the ability to take us to new places," Crowley said.
Hilburn led logistics support in 2015 that was critical to aid relief efforts as part of Operation United Assistance in West Africa during the Ebola virus crisis. Crowley supplied emergency shipping, warehousing, trucking, stevedoring, customs brokerage and other logistics services in partnership with the U.S. government, including support for 3,000 deployed troops and 17 treatment centers.
"Receiving this award is humbling given the remarkable teammates I work with on a daily basis at Crowley," said Hilburn. "It's really a product of everyone on our team working together to execute solutions. Providing those results that help others while strengthening our company is what drives our success."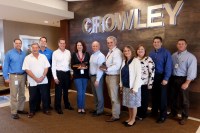 Jacksonville-based Crowley Holdings Inc., a holding company of the 124-year-old Crowley Maritime Corporation, is a privately held family and employee-owned company. The company provides project solutions, energy and logistics services in domestic and international markets by means of six operating lines of business: Puerto Rico/Caribbean Liner Services, Latin America Liner Services, Logistics Services, Petroleum Services, Marine Services and Technical Services. Offered within these operating lines of business are: liner container shipping, logistics, contract towing and transportation; ship assist and escort; energy support; salvage and emergency response through its 50 percent ownership in Ardent Global; vessel management; vessel construction and naval architecture through its Jensen Maritime subsidiary; government services, and petroleum and chemical transportation, distribution and sales. Additional information about Crowley, its subsidiaries and business units may be found at www.crowley.com.
Pictured above: Eisenhart, Crowley and Hilburn.
Pictured below are previous and latest winners: Rob Clapp, vice president, planning and strategy; Mike Golonka, vice president, government services; Cole Cosgrove; vice president, marine operations; Eric Evans, vice president, strategy; Eisenhart, Crowley and Hilburn; Susan Michel, vice president, organizational development; Kyra Roca, vice president, customer care; Todd Busch, senior vice president and general manager, technical services; Robert Weist, vice president, North America transportation.