Eighty-five Crowley Vessels Honored with 2010 CSA Environmental Achievement Awards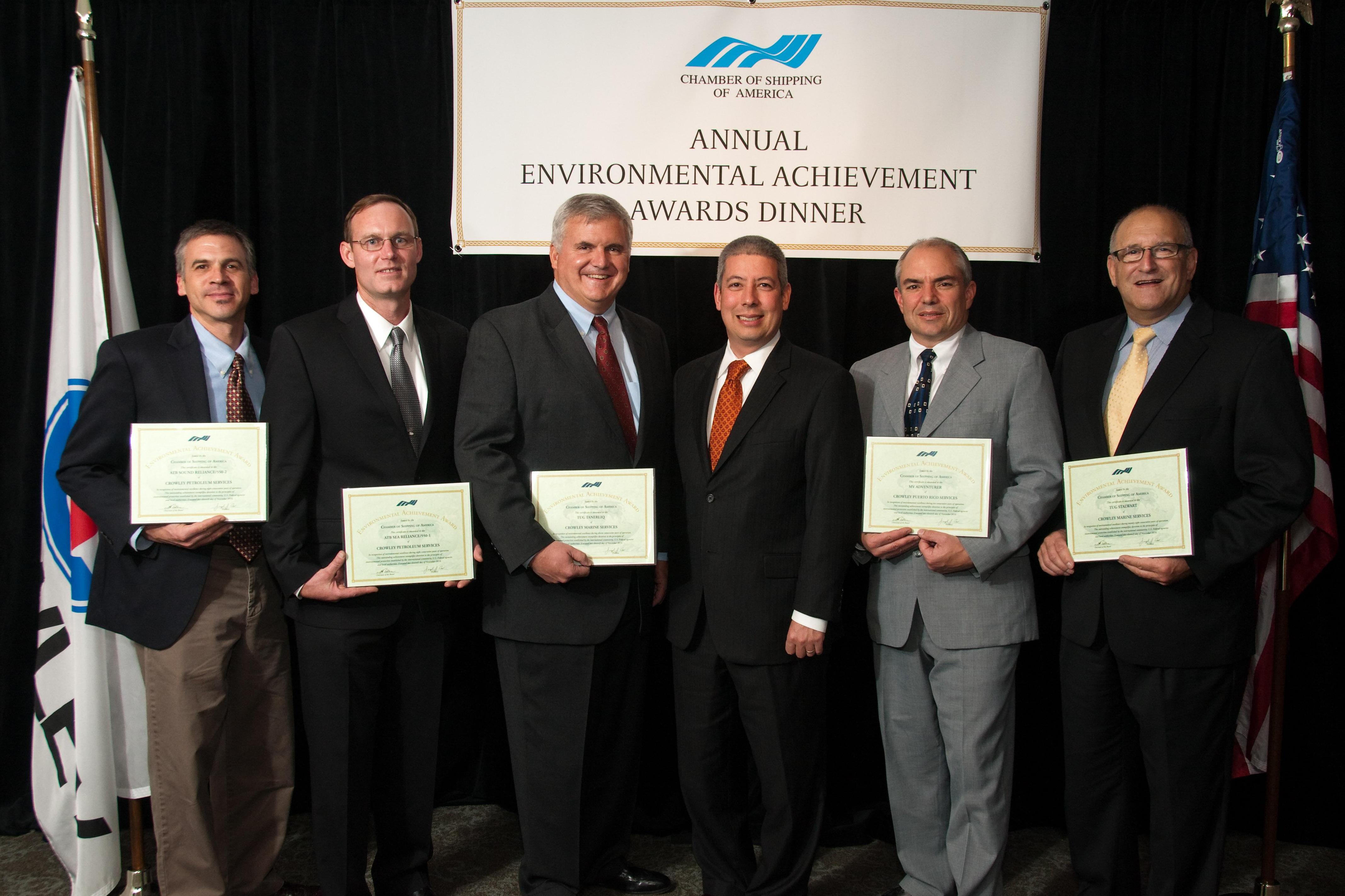 (Jacksonville, Fla.; Nov. 23, 2010) ­– Crowley Maritime Corporation was recently honored with 85 Certificates of Environmental Achievement for 2010 during a Chamber of Shipping of America awards ceremony in Washington, DC. The certificates were awarded to Crowley-owned and -operated vessels for having worked at least two years without environmental incident.
The awards are open to all owners and operators of vessels that operate on oceans or inland waterways. This year, nearly 1,100 vessels owned by 68 companies, including Crowley, were recognized. Crowley's vessels together achieved a total of 664 years of service without incident. Forty of Crowley's vessels have gone without incident for 10 or more consecutive years, including the following Crowley tugboats: Sea Voyager, 19 years; MV Pt. Barrow, 13 years; MV Pt. Thompson, 13 years; and Stalwart, with an impressive 28 years. 
"These awards celebrate the dedication to environmental excellence of our seafarers and the company personnel shore-side who operate our vessels to the highest standards," said Joseph J. Cox, CSA president and CEO. "In today's world, it seems our industry only gets front-page news when spills or other environmental problems occur. It is encouraging to see how many vessels go for years achieving environmental excellence." 
"This recognition is a testament to the rigorous work of our crews who ensure our vessels operate safely and in an environmentally responsible manner," said Captain Victor Goldberg, Crowley's vice president of marine operations for petroleum services. "Our vessels undertake at least one load and one discharge per week. Thus in a 52-week period, they have well over 100 instances of cargo operations.  Our crews know that carrying oil is a high-stakes business with no room for error." 
Jacksonville-based Crowley Holdings Inc., a holding company of the 118-year-old Crowley Maritime Corporation, is a privately held family and employee-owned company. The company provides marine solutions, transportation and logistics services in domestic and international markets by means of six operating lines of business: Puerto Rico/Caribbean Liner Services, Latin America Liner Services, Logistics Services, Petroleum Services, Marine Services and Technical Services. Offered within these operating lines of business are: liner container and breakbulk shipping; logistics; contract towing and transportation; harbor ship assist and tanker escort; energy support; salvage and emergency response through its TITAN Salvage subsidiary; vessel management; vessel construction and naval architecture through its Jensen Maritime subsidiary; government services, and petroleum and chemical transportation, distribution and sales. Additional information about Crowley, its subsidiaries and business units may be found on the Internet at www.crowley.com.
Caption, left to right: Christian Colletti, port engineer; David Eldridge, chief engineer, Cape Wrath; Rob Grune, senior vice president, general manager; David T. Masuda, maritime administrator, CSA; John Tronti, director, Maritime Transport Lines; Captain Vic Goldberg, vice president, operations
Vessels owned or managed by the Crowley family of companies that were recognized by CSA with Certificates of Environmental Achievement for 2010. 
CROWLEY MARITIME CORPORATION

CROWLEY LINER SERVICES

MV DEFENDER

10

MV ENSIGN

10

MV EXPLORER

10

MV MONITOR

10

MV PATRIARCH

10

MV PILOT

10

MV PIONEER

6

MV SENTINEL

10

MV SENTRY

10

CROWLEY MARINE SERVICES

MV CAVALIER

10

MV CENTURION

10

MV CHIEF

12

MV COMMANDER

5

MV CRUSADER

10

MV ENDURANCE

5

MV GAUNTLET

10

MV GUARD

5

MV GUIDE

12

MV GUARDIAN

10

MV HUNTER

9

MV MARS

7

MV PT BARROW

13

MV PT. THOMPSON

13

MV SEA BREEZE

10

MV SEA HORSE

10

MV SEA ROBIN

4

MV SEA VENTURE

10

MV SPARTAN

6

MV TIOGA

12

MV WARRIOR

10

TUG ALERT

10

TUG ATTENTIVE

10

TUG AWARE

10

TUG BULWARK

10

TUG ENDURANCE

10

TUG INVADER

10

TUG NANUQ

11

TUG SEA VOYAGER

19

TUG STALWART

28

TUG TANERLIQ

11

CROWLEY PETROLEUM SERVICES

ATB COASTAL RELIANCE/550-4

7

ATB COURAGE/650-5

2

ATB GULF RELIANCE

4

ATB INTEGRITY/650-4

2

ATB OCEAN RELIANCE/550-3

7

ATB PACIFIC RELIANCE/650-1

4

ATB RESOLVE/650-3

3

ATB SEA RELIANCE/550-1

8

ATB SOUND RELIANCE/550-2

8

MV GUARDSMAN

2

MV SEA CLOUD

6

MV SEA PRINCE

6

MV SIOUX

6

SS BLUE RIDGE

3

SS COAST RANGE

3

TUG SENCA

3

CROWLEY PUERTO RICO SERVICES

MV ADVENTURER

10

CROWLEY TECHNICAL MANAGEMENT

CAPE INSCRIPTION

2

SS CAPE ISABEL

4

CAPE TEXAS

2

MV CAPE TRINITY

2

MV CAPE WRATH

5

COURAGE (ARC)

5

FREEDOM (ARC)

4

INDEPENDENCE II (ARC)

5

INTEGRITY (ARC)

3

MV CAPE TAYLOR

7

MV CAPE WASHINGTON

2

NATIONAL GLORY

3

RESOLVE (ARC)

2

SS CAPE INTREPID

5

SS CAPE ISLAND

8

SS CURTIS

11

SS WRIGHT

10

MARINE TRANSPORT LINES

MV CAPE DOUGLAS

3

MV CAPE DECISION

7

MV CAPE DIAMOND

6

MV CAPE DOMINGO

5

MV CAPE DUCATO

4

MV CAPE EDMONT

10

MARINE TRANSPORT MANAGEMENT

MV CHARLESTON EXPRESS

12

MV PHILADELPHIA EXPRESS

12

MV ST LOUIS EXPRESS

12

MV WASHINGTON EXPRESS

12

MV YORKTOWN EXPRESS

9
# # #