Don't Miss it: Crowley's Valdez tug operations to be featured on the The Weather Channel tonight!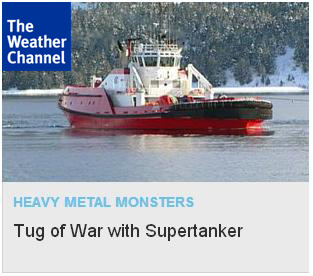 The Weather Channel will feature Crowley's Valdez, Alaska, ship assist and escort tugs as they escort laden supertankers safely through the Prince William Sound. The show, "Heavy Metal Monsters," airs tonight, Monday, Sept. 30, on the Weather Channel at 8:00 p.m. (AKST)/ 9:00 p.m. (all other U.S. time zones).
Check your local listings for the channel number and tune in to watch all the action, which includes extreme weather conditions, incredible local scenery, a display of the tugs' capable fire monitors and much more.
To watch a preview of the show, click here:http://www.weather.com/video/tug-of-war-with-supertanker-38862 (Note, if your browser won't play the video, check out the link from your mobile device.)