Don't Miss It: Crowley's Miami Shipping and Logistics Business to be featured on Telemundo Tonight at 6:00 p.m. (EST)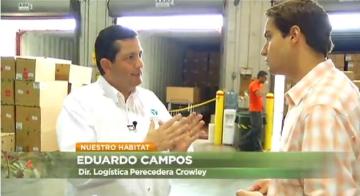 A segment about Crowley's Miami shipping and logistics business will air tonight, October 1, 2013, on Telemundo 51 at 6:00 p.m. (EST).
The piece, which will air in Spanish, features Crowley's Eduardo Campos, director of logistics, CrowleyFresh, and will specifically focused on the company's traceability and food safety. Noted in the story is the fact that CrowleyFresh, the company's newest Miami-based cold storage facility, recently achieved a top score (100 percent) in its food and safety procedures through Primus Labs, a top food safety solutions company.
Tune in!