Designed by Jensen, First Tier IV, SCR Tugboat in America is Christened
The Jensen Maritime-designed Earl W. Redd, the first tractor tugboat in America to enter service in compliance with the U.S. Environmental Protection Agency (EPA)'s Tier IV environmental standards by use of a Selective Catalytic Reduction (SCR) system, was christened earlier this month by owner Harley Marine Services Inc., of Seattle.
An SCR system scrubs emissions by converting nitrogen oxide (NOx) into ammonia, which is then absorbed by ceramic bricks built into the engines. The technology significantly reduces the amount of NOx, particulate matter and hydrocarbons released into the environment, and makes the 120-foot vessel one of the cleanest-running tugboats in terms of marine emissions.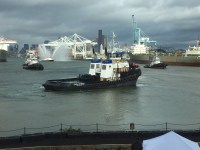 Built at Diversified Marine Inc.'s shipyard in Portland, Ore., the Earl W. Redd is the first of seven such tugs in development by Jensen.
"With six more Tier IV tugboat designs slated for release soon, Jensen is leading the industry in the production of environmentally friendly designs balanced with high-quality performance," said Jensen's Johan Sperling, vice president. "The completion of this tug is a continuation of our commitment to meet the industry's demands for strong, yet nimble, vessels with quality design."
Jensen also equipped the Earl W. Redd with modern Rolls-Royce US 255-P30-FP Z-drive propulsion and two Caterpillar 3516E diesel engines, for a rated 5,000 horsepower. Two, 125 kilowatt-hour (kW) John Deere generator sets provide the tug's electrical power.
Jensen designed the vessel to carry up to 128,000 gallons of fuel; 6,534 gallons of fresh water; 1,137 gallons of lube oil; and 1,263 gallons of hydraulic oil. The towing gear consists of a Markey, double-drum, towing winch, with 2,600 feet of towing wire mounted on the stern and a Markey ship-assist hawser winch on the bow.
A large pilot house provides all-around visibility, and the deckhouse has an open feel with a large mess and lounge area along with accommodations for a 10-person crew.
Following the christening, the Earl W. Redd joined Harley's Olympic tug-and-barge operations along the U.S. West Coast, including in Alaska, the Puget Sound and on the Columbia River.
Seattle-based Jensen Maritime Consultants Inc. is a naval architecture and marine engineering firm owned by Crowley Maritime Corporation. The company offers a diverse range of consulting, design and engineering services developed from more than 50 years of experience working around the world. Jensen is a recognized leader in the design of all types of vessels and has built a favorable reputation on a long history of successful designs and conversions with close attention to engineering basics. The company's services include detail and conceptual design and engineering, vessel modifications, lofting, regulatory and shipyard liaison as well as on-site consulting services and on-location assistance anywhere in the world. Additional information about Jensen can be found at jensenmaritime.com.