David Parrot, Founder and Former Chief of TITAN Salvage, Passes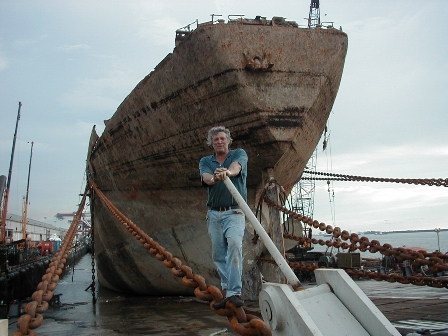 (Jacksonville, Fla.; Sept. 16, 2010) — David Gray Parrot, 65, founder and former chief of TITAN Salvage, passed away yesterday in Maine in the comfort of family and friends. Parrot is survived by his loving wife Penny, sons Hunter and Gage, and an enormous network of friends and family. A private family service is scheduled for this weekend in Maine.
"On behalf of the entire Crowley organization, I extend my deepest sympathies and condolences to David's family, friends and colleagues," said Tom Crowley, Jr., Crowley Maritime Corporation's chairman, president and CEO. "He was a remarkable man who founded and helped build TITAN into one of the premier marine salvage and wreck removal companies in the world today. He will be missed by many for his vision, determination and countless contributions, but most of all, for his friendship."
Crowley acquired TITAN in 2005.
Founded in 1980 by Parrot, TITAN started as an undercapitalized, one-tug towing firm, struggling to expand and make a name for itself. In 1982, TITAN's tug Nestor and her crew were hired as sub-contractors to assist one of the Dutch firms on a salvage/wreck removal in the Caribbean. When the job was no longer economically feasible for the Dutch firm, TITAN successfully took over the operation. This achievement was a milestone for the company, marking the first of a long series of salvages and wreck removal jobs, which continues to this day. During the '80s the company acquired more tugs, barges and cranes, enabling it to build a regional salvage and wreck removal business in the Caribbean.
Parrot's long-time business partner Dick Fairbanks joined the company in 1988. He also has had a lifelong exposure to the sea and had made his living in the marine field for many years. With a degree in mechanical engineering and years of employment with General Electric's marine steam turbine division, he brought a high degree of technical expertise to TITAN. Equally important were his strengths in business and administration. Fairbanks' vision and recognition of the realities of scale led to TITAN's sale of its tugs and most of its floating equipment in 1992. The decision to sell the floating equipment was part of a strategy to expand TITAN's operating area worldwide by using vessels of opportunity near the site of a casualty and by flying in TITAN's own expert salvors and specialized equipment. TITAN became independent of its own floating equipment and was able to incorporate the senior masters and engineers into highly trained and mobile salvage teams.
Over the years, Parrot and Fairbanks found that it was often safer and more efficient to sub-contract certain highly specialized services than it was to provide those services themselves. This combination has proven to be the right approach for TITAN and its clients, namely owners, underwriters and P&I Clubs.
Parrot and Fairbanks accelerated the company into the salvage field on a worldwide basis, and it gained even more prominence and stature following the 2005 acquisition by Crowley. Today the company is headquartered in Pompano Beach, Fla., with offices in the UK, Singapore and Australia.
TITAN, a wholly owned Crowley subsidiary, is a worldwide marine salvage and wreck removal company based in Pompano Beach, Fla., that has performed over 350 salvage and wreck removal projects since 1980, including some of the most technically demanding projects ever undertaken. The company also has offices and equipment depots in Newhaven, UK, Singapore, and Australia. TITAN responds to vessel emergencies around the world and is able to mobilize a worldwide network of expert salvage professionals and specialized, portable equipment within hours of activation. TITAN is accessible 24 hours a day through the company's main dispatch telephone number, +1-954-545-4143. Additional information about TITAN may be found at www.titansalvage.com.
# # #