Crowley's Tugboat Guard Performs Heroic Rescue of Man Struggling to Stay Afloat in San Francisco Bay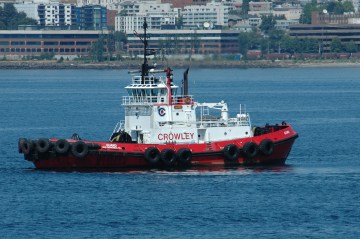 (SAN FRANCISCO; November 12, 2012) – The crew aboard Crowley Maritime Corporation's tugboat Guard recently performed a heroic rescue of a man who was struggling to stay afloat in the waters outside of San Francisco Bay.
The rescue took place during the early morning hours of Wednesday, October 31, while the tugboat was standing by outside the Golden Gate Bridge, waiting to escort a tanker into San Francisco Bay's anchorage. Crowley's Perry Overton, captain of the Guard, noticed the man treading water a little more than a mile and a half from the bridge. Working quickly, the crew tossed the man a life ring and Crowley's Chief Engineer Keith Madding donned a survival suit and entered the frigid 55 degree waters to help the fatigued man climb the Guard's emergency ladder. Once aboard, the crew removed the hypothermic man's wet clothing and wrapped him in warm blankets until the Coast Guard arrived and could perform other life-saving treatments.
Following the rescue, the Guard resumed escort duties on the tanker, bringing it to its destination as scheduled.
Ranger Shannon Jay, of the National Park Service at Golden Gate National Parks in the San Francisco Bay area, who is assisting the San Francisco Police Department in the investigation of this incident, said of the Crowley crew: "These guys are heroes and without a doubt saved that man's life. In the 20-plus years of my career, I have never seen such a professional rescue by non-professional-rescuers." Additionally, he said that the event should be considered "a tribute to the training they received and also to the crew for quickly and diligently using their training. They are true heroes."
The Guard'screw has been nominated by the National Park Service for a Citizen's Award for Bravery, which is an honor awarded by the secretary of the interior in Washington DC.
"On behalf of everyone here at Crowley, I want to congratulate this brave crew for putting their training to good use to perform the vital measures needed to save this man's life," said Crowley's Rocky Smith, senior vice president and general manager, petroleum distribution and marine services. "These crewmembers are true heroes and deserve to be recognized for their service."
The crew aboard the Guard, which is a member of Crowley's marine services fleet, is fully trained and prepared to respond to a variety of incidents. In addition to meeting defined regulatory training requirements, the company's crewmembers participate annually in the Crowley Safety Program, a custom training event designed exclusively for mariners. The program provides training in cold-water survival tactics, shipboard fire fighting, medical incidents and other relevant topics give the mariners the skills and confidence they need to survive in emergency situations. Within the past year, the Guard's crew members participated in an additional in-water training that required the use of immersion suits to better understand techniques for man-overboard and other water rescues.  
In 2006, another Crowley crew aboard the Guard was also recognized for responding to a remote house fire on Vashon Island, Wash.
The Guard is one of two Crowley tugs equipped with emergency response capabilities in the San Francisco Bay area. Since 1906, Crowley has providing tug services in U.S. West Coast waterways, and today the company serves the entire Bay area, utilizing technologically advanced and powerful tugs manned by experienced crews. Crowley tugboats are available to assist in the docking, undocking and towing of container ships, car carriers, tankers and other types of vessels entering and leaving this Pacific West Coast harbor gateway. Crowley also provides tanker escort service to ensure safe passage in and out of the San Francisco Bay refinery ports, as well as short- and long-haul ocean towing throughout the U.S. West Coast and around the world.
Click to learn more about the Guard and Crowley's total ship assist and tanker escort capabilities.
Jacksonville-based Crowley Holdings Inc., a holding company of the 120-year-old Crowley Maritime Corporation, is a privately held family and employee-owned company. The company provides project solutions, transportation and logistics services in domestic and international markets by means of six operating lines of business: Puerto Rico/Caribbean Liner Services, Latin America Liner Services, Logistics Services, Petroleum Services, Marine Services and Technical Services. Offered within these operating lines of business are: liner container shipping, logistics, contract towing and transportation; ship assist and escort; energy support; salvage and emergency response through its TITAN Salvage subsidiary; vessel management; vessel construction and naval architecture through its Jensen Maritime subsidiary; government services, and petroleum and chemical transportation, distribution and sales. Additional information about Crowley, its subsidiaries and business units may be found on the Internet at www.crowley.com.
#     #     #