Crowley's Solutions Group Now Available from Crowley.com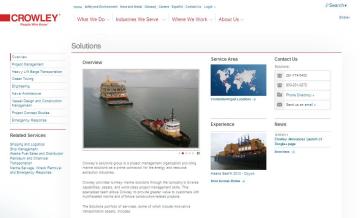 Crowley's recently-created, project management-oriented business group called solutions is now represented on the company's website. The solutions web pages may be accessed directly using the URL www.crowley.com/solutions.
The site features solutions' capabilities and services – which include global project management, heavy-lift barge transportation, ocean towing, engineering, naval architecture, vessel design and construction management, project concept studies and emergency response, along with information about Crowley-owned assets and equipment, success stories, engaging photography and more.
The company established solutions in September 2011 to bundle Crowley and other third-party capabilities and assets with world-class project management skills to provide complete turnkey marine solutions. This specialized team has a Project Management Office (PMO) in Houston, Texas, placing Crowley near major energy companies engaged in multifaceted marine and offshore construction-related projects.
For more information, please visit the Crowley solutions website.