Crowley's Ruben Montañez Inducted in the Puerto Rican Sports Hall of Fame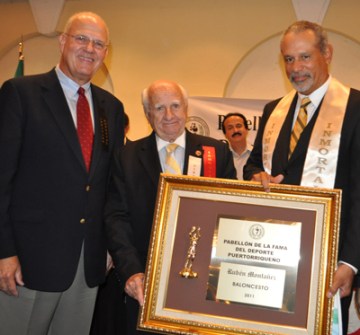 (SAN JUAN, Puerto Rico, October 11, 2011) ­– Crowley Maritime Corporation's Ruben Montañez, senior account executive, Puerto Rico and Caribbean services, and former basketball player on the Bayamon Vaqueros (the Bayamon Cowboys), was inducted in the Puerto Rican Sports Hall of Fame, along with nine retired athletes during the 50th annual induction ceremony in Mayaguez, Puerto Rico, Sunday.
"I am deeply humbled by this great recognition. I've always said that I owe a great deal of my success to great coaching and teamwork," said Montañez. "It is such an honor to represent Puerto Rico as an athlete and contribute to its rich sports history."
Montañez, who was also inducted in the Bayamon Sports Hall of Fame in 2007, played the positions of guard and forward on the Puerto Rico professional basketball team, based in Bayamon, Puerto Rico, from 1968 to 1983. During his 15-year sports career, Montañez won Rookie of the Year along with seven championships.
"Those championship games are some of my fondest memories as a player," said Montañez. "The most special one being our 1975 championship win against one of our biggest rivals, the Quebradillas Pirates in Ponce. That day, I had been in the hospital in San Juan for two days ill with a very high fever, but I was determined to play. So, one of my teammates got me discharged and drove me to the arena just in time for me to suit up and play with an I.V. We won our fifth consecutive championship that night. It was the big game and I wanted to be there for my team no matter what."
Montañez helped his team win a championship one last time in 1983. Soon after, he retired from the sport, but would reunite with his former teammate and future colleague Charlie Dominguez off the court. Montañez joined Crowley as a sales manager in 1989 after Dominguez, who is now vice president of national accounts and has served Crowley for 28 years, inspired him to do so.
"I am extremely proud of Ruben's accomplishment, but I am not surprised. We played side-by-side for many years and I knew his dedication, focus and team-player attitude would take him far both off and on the court," said Dominguez. "And his work ethic is something he has definitely carried over to his career at Crowley."
"I definitely brought many lessons I learned as a player to Crowley," said Montañez, who handles and maintains major accounts like Bacardi, All American Container and Logistics Management for the company. "In sales, just like in basketball, you need discipline and teamwork. You have a group of people working together for a common goal. I've been very fortunate to have exceptional people who are like family on my team at Crowley and when I played with the Cowboys."
The Puerto Rican Sports Hall of Fame is a sectarian, apolitical and non-profit organization headquartered in San Juan, Puerto Rico, which has inducted 632 athletes since it was founded by Bob Leith in 1958.
Jacksonville-based Crowley Holdings Inc., a holding company of the 119-year-old Crowley Maritime Corporation, is a privately held family and employee-owned company. The company provides project solutions, transportation and logistics services in domestic and international markets by means of six operating lines of business: Puerto Rico/Caribbean Liner Services, Latin America Liner Services, Logistics Services, Petroleum Services, Marine Services and Technical Services. Offered within these operating lines of business are: liner container shipping, logistics, contract towing and transportation; ship assist and escort; energy support; salvage and emergency response through its TITAN Salvage subsidiary; vessel management; vessel construction and naval architecture through its Jensen Maritime subsidiary; government services, and petroleum and chemical transportation, distribution and sales. Additional information about Crowley, its subsidiaries and business units may be found on the Internet at www.crowley.com.
# # #