Crowley's Neah Bay Emergency Response Tug Assists Disabled Containership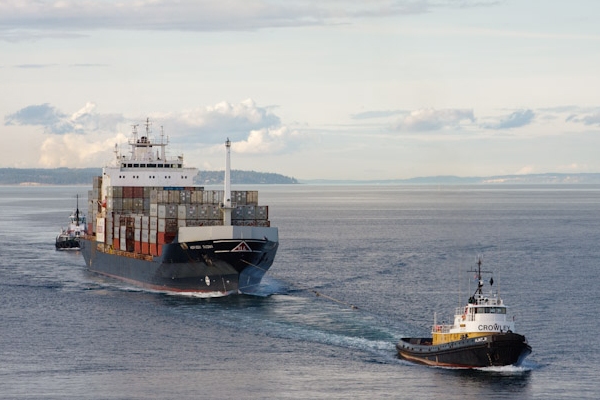 (Jacksonville, Fla.: March 5, 2010) – Crowley Maritime Corporation's tugboat Hunter, the state-funded emergency response tug stationed at Neah Bay, Wash., was dispatched this week to assist the 712-foot container vessel, Horizon Tacoma, after the vessel experienced engine problems.
The Horizon Tacoma was a few miles north of Neah Bay when it elected to shut down its main engines following the engine problem, though it continued to have full use of its thrusters and directional navigation. After notification by the U.S. Coast Guard (USCG), the Hunter rapidly got underway and arrived at the ship in less than 30 minutes where it immediately connected a towline.
The state has contracted to station a standby emergency response tug at Neah Bay since spring 1999. The tug has stood by or assisted 44 vessels that were disabled or had reduced maneuvering or propulsion capability while transporting oil and other cargo along the coast and through the Strait of Juan de Fuca. The actions helped ensure the ships didn't drift onto rocks and spill oil.
A second tug was ordered by the USCG to meet the Hunter at Port Angeles for further assist en route to Tacoma. While the Hunter has the Horizon Tacoma under tow, Crowley has sent tug Valor to stand by in its place.
Jacksonville-based Crowley Holdings Inc., a holding company of the 117-year-old Crowley Maritime Corporation, is a privately held family and employee-owned company. The company provides diversified transportation and logistics services in domestic and international markets by means of six operating lines of business: Puerto Rico/Caribbean Liner Services, Latin America Liner Services, Logistics Services, Petroleum Services, Marine Services and Technical Services. Offered within these operating lines of business are the following services: liner container shipping, logistics, contract towing and transportation; ship assist and escort; energy support; salvage and emergency response through its TITAN Salvage subsidiary; vessel management; vessel construction and naval architecture through its Jensen Maritime subsidiary; government services, and petroleum and chemical transportation, distribution and sales. Additional information about Crowley, its subsidiaries and business units may be found on the Internet at www.crowley.com.
# # #