Crowley's Logistics Group Named a Top 100 3PL Provider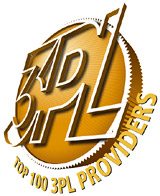 (Jacksonville, Fla.; August 4, 2010) — Crowley Maritime Corporation's logistics group has been selected as a Top 100 third-party logistics (3PLs) provider by Inbound Logistics (IL) magazine for the second consecutive year. The list serves as a qualitative assessment of service providers deemed as the best equipped to meet and surpass readers' evolving outsourcing needs.
IL editors selected this year's class of Top 100 3PLs from a pool of more than 300 companies. The service providers selected are companies that, in the opinion of the editors, offer the diverse operational capabilities and experience to meet readers' unique supply chain and logistics needs.
"Given the growing complexity of mastering global supply chain management, the role 3PLs play continues to become increasingly important," said Editor Felecia Stratton. "Inbound Logistics selected Crowley Logistics as a 2010 Top 100 3PL provider because of its demonstrated ability in helping leading enterprises achieve the efficiency and scalability so important to success in today's global economic climate."
"We are thrilled with the recognition," said Steve Collar, Crowley's senior vice president and general manager of logistics. "It reflects not only the growth of the company since we started in 1998, but also the increasingly robust suite of services we are able to offer our customers and the solution-oriented mindset of our employees."
Distilling the Top 100 is never an easy task, and the process becomes increasingly difficult as more 3PLs enter the market and service providers from other functional areas develop value-added logistics capabilities. Each year, IL editors select the best logistics solutions providers by carefully evaluating submitted information, conducting personal interviews and online research, and comparing that data to readers' burgeoning global supply chain and logistics challenges.
Jacksonville-based Crowley Holdings Inc., a holding company of the 118-year-old Crowley Maritime Corporation, is a privately held family and employee-owned company. The company provides diversified transportation and logistics services in domestic and international markets by means of six operating lines of business: Puerto Rico/Caribbean Liner Services, Latin America Liner Services, Logistics Services, Petroleum Services, Marine Services and Technical Services. Offered within these operating lines of business are the following services: liner container shipping, logistics, contract towing and transportation; ship assist and escort; energy support; salvage and emergency response through its TITAN Salvage subsidiary; vessel management; vessel construction and naval architecture through its Jensen Maritime subsidiary; government services, and petroleum and chemical transportation, distribution and sales. Additional information about Crowley, its subsidiaries and business units may be found on the Internet at www.crowley.com.
# # #