Crowley's Guatemala-Based Liner and Logistics Teams Move into New, State-of-the-Art Office in Heart of Guatemala City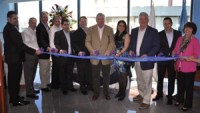 In an effort to better serve customers and business partners, Crowley Maritime Corp.'s Guatemala-based liner and logistics teams have moved into a new office space in the heart of Guatemala City, the country's bustling metropolis and most populous city in Central America.
Modeled after Crowley's Jacksonville, Fla., headquarters, the office's open layout maximizes the workspace while promoting a collaborative environment and synergy between the two business units, which were previously housed in separate buildings. Moreover, combining the liner and logistics teams under one roof allows Crowley to better streamline services between departments, maximizing interdepartmental efficiency. This means that customers can now reach both the liner and logistics teams via a single phone number, (502) 2326-5511. Additionally, a Transmetro station located just outside of the office makes accessing the building via Guatemala City's bus-based mass public transit system a breeze for both Crowley customers and employees.
"The open office workspace is still a novel concept in Central America, but it continues to work remarkably well for us as a company," said Steve Collar, senior vice president and general manager, Latin America liner services. "Moving into our new office in Guatemala allows us to more closely align the liner and logistics business units and better serve the needs of our customers."
Centrally located in the financial district of Zone 4, Crowley's new main Guatemalan office occupies 572.25 square meters (6,159.65 square feet) on the seventh floor of Financial Center Tower 3, a 12-story, state-of-the-art building outfitted with sophisticated security, emergency management and earthquake proofing technologies, among other advancements.
"Safety is paramount at Crowley," said Frank Larkin, senior vice president and general manager, logistics, who lauded the building's technologically advanced design. Both he and Collar attended a ribbon-cutting ceremony to mark the grand opening of the new office earlier this month. "It was important that our new office feature the latest technology to ensure the well-being of our employees, business partners and guests."
Crowley will continue to operate a nearby warehouse, located at El Naranjo, Zona 4 de Mixco, however, customer support and sales functions will be performed exclusively out of the new office. In addition to regular liner shipping services to and from Guatemala City (via Santo Tomás), customers can also take full advantage of Crowley's extensive service options, like trucking, air shipments, Customs house brokerage and warehousing.
The new office facility is located at Via 5, 5-34 Zona 4, Centro Financiero Torre 3 Nivel 7 Oficina 701. For more information or to inquire about Crowley's services, contact Crowley at (502) 2326-5511 (in Guatemala) or 1-800-Crowley (in the U.S.).
Jacksonville-based Crowley Holdings Inc., a holding company of the 122-year-old Crowley Maritime Corporation, is a privately held family and employee-owned company. The company provides project solutions, transportation and logistics services in domestic and international markets by means of six operating lines of business: Puerto Rico/Caribbean Liner Services, Latin America Liner Services, Logistics Services, Petroleum Services, Marine Services and Technical Services. Offered within these operating lines of business are: liner container shipping, logistics, contract towing and transportation; ship assist and escort; energy support; salvage and emergency response through its TITAN Salvage subsidiary; vessel management; vessel construction and naval architecture through its Jensen Maritime subsidiary; government services, and petroleum and chemical transportation, distribution and sales. Additional information about Crowley, its subsidiaries and business units may be found on the Internet at www.crowley.com.
# # #
Photo (from left to right): Jorge Villela, sales manager, Guatemala; Neil Perlmutter, vice president, planning and strategy; Ned LaGoy, vice president, business development; Jorge Campabadal, vice president, Costa Rica; Carlos Beltrán, general manager, Latin America liner services and logistics; Jorge Estevez, vice president, national accounts; Frank Larkin, senior vice president and general manager, logistics; Claudia Kattan, vice president, northern zone, Latin America liner services; Steve Collar, senior vice president and general manager, Latin America liner services; Miguel Ariga, vice president, Central America; Zoraida Jirau, director, international human resources