Crowley's Four Ocean Class Tugs Perform Inaugural Project Together to Successfully Deliver Largest Offshore Platform, Olympus, to Gulf of Mexico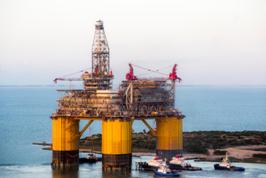 (Corpus Christi, Texas; September 18, 2013) ­– Four of Crowley Maritime Corp.'s ocean class tugboats, the Ocean Wind, Ocean 
ave, Ocean Sky and Ocean Sun, recently completed the successful delivery of the offshore oil production and drilling platform, Olympus, to the U.S. Gulf of Mexico. The project was significant because it provided the first opportunity for all four of the company's new high-bollard-pull, ocean class tugboats to work together on any single job. The rig, owned by Royal Dutch Shell, is also considered the largest tension-leg platform ever to be developed for the U.S. Gulf of Mexico.
The Crowley ocean class tugs worked together in both nearshore and offshore waters to relocate the 120,000-ton, 406-ft. tall tension-leg platform from Ingleside, Texas, 425 miles to its deepwater location in the U.S. Gulf of Mexico. During the first stage of work, called the nearshore phase, (see first photo) the Ocean Wind and Wave provided assistance in pushing the Olympus away from the Keiwit facility dock in Ingleside, Texas, through the Port of Aransas, Texas, and out to deeper waters. During this initial phase, the Ocean Sky was also available and equipped to provide push assistance, if needed.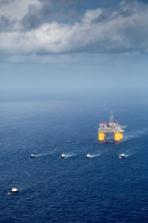 Once safely outside of the port, the Ocean Wave, Ocean Wind and Ocean Sun towed the vessel to its final location in more than 3,000 feet of water. During this second stage, called the offshore phase, (see second photo) the Ocean Sky took on the role of escort tug, which helped to ensure the towing vessels' and platform's safety. Providing additional support was the Crowley-contracted, offshore tugboat Harvey War Horse II. This additional asset was a turnkey solution arranged by the company's solutions team, a Houston-based project management organization.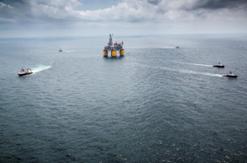 In the final stage, called the positioning phase, (see third photo) the Ocean Wind, Ocean Wave and Ocean Sun vessels helped to position the platform in its final location and remained on site in a star pattern to provide support as the platform was attached to tendons and made storm safe. The Ocean Sky remained on site as a stand-by vessel and to provide additional security.
"This successful project is a testament to the capability, station-keeping and power of these vessels," said Crowley's John Ara, vice president, solutions. "The design of the ocean class has allowed us to participate in the full scope of marine transportation, including nearshore, offshore and positioning work. From the initial push-off to securing it as storm-safe, these tugs were critical assets in the relocation of the Olympus platform."
Crowley's ocean class tugs are modern ocean towing twin-screw vessels with controllable pitch propellers (CPP) in nozzles, high lift rudders and more than 147 MT bollard pull. The first two ocean class vessels, the Ocean Wave and Ocean Wind, are classed as Dynamic Positioning 1 (DP1) tugboats and are twin-screw, steel-hulled tugs with an overall length of 146 ft., beam of 46 ft., hull depth of 25 ft. and design draft of 21 ft. The second two tugs of the class, Ocean Sky and Ocean Sun, are classed as DP2 and are 10 feet longer. All four vessels are capable of rig moves, platform and Floating Production, Storage and Offloading (FPSO) unit tows, emergency response, salvage support and firefighting.
"These specialized tugboats have proven themselves as workhorses for our valued upstream energy customers and for companies and government entities needing long-range, high-capacity, ocean towing along with salvage and emergency response support," said Crowley's Todd Busch, senior vice president and general manager, technical services. "They are truly solidifying our standing as an industry leader in ocean towing, salvage and offshore marine support."
The Olympus, which was constructed in South Korea, features 24-slot drilling units and a deck large enough to process crude from a six-well subsea development on site. Outfitted with 15,000 psi-rated trees, the platform will concentrate on high-pressure reservoirs that range in depths ranging from 20,000 to 22,000 ft. The expectation is that the Olympus will produce and process 100,000 barrels of oil equivalent per day once operating at full capacity. A video providing more information about the sail of the platform can be viewed online here: http://www.shell.us/aboutshell/us-media-center/news-and-press-releases/2013/07162013-sailaway-video.html (the ocean class tugs make an appearance around 4:50).
Now that the Olympus has been delivered safely, the Ocean Wind, Ocean Wave and Ocean Sun are already at work on a different project, this time transporting the Lucius spar platform for customer Anadarko. The 80,000-barrel-per-day spar is now under tow with Crowley for more than 300 miles to its final location in the deep waters of the U.S. Gulf. Once delivered, it will be installed in about 7,100 ft. of water to produce oil and natural gas from beneath the sea floor.
Jacksonville-based Crowley Holdings Inc., a holding company of the 121-year-old Crowley Maritime Corporation, is a privately held family and employee-owned company. The company provides project solutions, transportation and logistics services in domestic and international markets by means of six operating lines of business: Puerto Rico/Caribbean Liner Services, Latin America Liner Services, Logistics Services, Petroleum Services, Marine Services and Technical Services. Offered within these operating lines of business are: liner container shipping, logistics, contract towing and transportation; ship assist and escort; energy support; salvage and emergency response through its TITAN Salvage subsidiary; vessel management; vessel construction and naval architecture through its Jensen Maritime subsidiary; government services, and petroleum and chemical transportation, distribution and sales. Additional information about Crowley, its subsidiaries and business units may be found on the Internet at www.crowley.com.
#     #     #