Crowley's First Ocean Class Tugboat Performs Inaugural Job in Cuba alongside Subsidiary TITAN Salvage
Salvage Job Brought Together Unique Company Capabilities and Equipment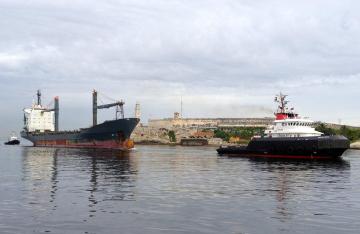 (HOUSTON, October 31, 2012) – The first of four Crowley Maritime Corporation ocean class tugboats, Ocean Wave, completed its inaugural project earlier this month by removing a grounded containership from the northern coast of Cuba. The job is additionally significant because it utilized many of Crowley's unique capabilities, equipment and established relationships with Cuban entities and government to complete the job quickly despite many challenges.
The project's success hinged on a coordinated and timely response from Antilliana De Salvemento, the Cuban salvage company which subcontracted TITAN Salvage, Crowley's Pompano, Fla.-based emergency response, marine salvage and wreck removal company, and Houston-based T&T Marine Salvage, to assist with the removal of the stricken containership.
Other key team members included Crowley's solutions group, the company's Houston-based Project Management Organization (PMOrg), which manages the ocean class vessels; Crowley's government services team, which has developed strong relationships with Cuban government officials and has obtained several licenses from the U.S. government for marine disaster response in Cuban waters; the Marine Response Alliance (MRA), an association of emergency responders organized to provide ship owners trading in the U.S. with salvage marine fire-fighting services and emergency towing; and the Marine Pollution Control, MRA's lightering service partner and oil pollution prevention company, which provided specialized equipment and personnel to ensure the success of the job. TITAN, Crowley and Marine Pollution Control are founders and partners of the MRA.
The containership was en route from Santiago de Cuba to Havana, Cuba, when it came ashore after losing power during Tropical Storm Isaac in late August. Following the grounding, TITAN's salvage master was on scene in less than 24 hours, Crowley's government services team worked with U.S. and Cuban authorities to complete all necessary Customs documentation in advance, and the solutions team readied the Ocean Wave for the 48-hour transit from Orange, Texas, to the site of the project in Cuba.
The stricken vessel, towed by the Ocean Wave, was successfully removed from the coastline and delivered to port in Havana, Cuba, in early October.
"This successful project is a testament to the power of Crowley's total capabilities," said the company's Todd Busch, senior vice president and general manager, technical services. "We leveraged many of our unique company assets – such as the Ocean Wave – our collective experience, and our long-standing relationships with the Cuban authorities and Antilliana De Salvemento to complete a challenging job quickly in a location where many others would be unable to work. Not only were we able to work as a team, but we performed the job quickly and without harm to the environment or any people. It was an excellent example of what Crowley can do in emergency response situations, in some of the most challenging locations in the world."
Crowley's ocean class tugboats, including the Ocean Wave, Ocean Wind, Ocean Sun and Ocean Sky, are ideally suited to work with Crowley's 455 series high-deck strength barges, which measure 400 feet long by 105 feet wide (121.92 meters by 32 meters). These tugs are outfitted for long-range, high-capacity ocean towing, rig moves, platform and floating production, storage and offloading (FPSO) unit tows, emergency response and firefighting. The Ocean Wave was christened, along with sister vessel,Ocean Wind, last week in New Orleans, La.
About Crowley Maritime Corp.
Jacksonville-based Crowley Holdings Inc., a holding company of the 120-year-old Crowley Maritime Corporation, is a privately held family and employee-owned company. The company provides project solutions, transportation and logistics services in domestic and international markets by means of six operating lines of business: Puerto Rico/Caribbean Liner Services, Latin America Liner Services, Logistics Services, Petroleum Services, Marine Services and Technical Services. Offered within these operating lines of business are: liner container shipping, logistics, contract towing and transportation; ship assist and escort; energy support; salvage and emergency response through its TITAN Salvage subsidiary; vessel management; vessel construction and naval architecture through its Jensen Maritime subsidiary; government services, and petroleum and chemical transportation, distribution and sales. Additional information about Crowley, its subsidiaries and business units may be found on the Internet at www.crowley.com.
About TITAN Salvage
TITAN, a wholly owned subsidiary of Crowley Maritime Corporation, is a worldwide marine salvage and wreck removal company based in Pompano Beach, Fla., that has performed more than 400 salvage and wreck removal projects since 1980, including some of the most technically demanding projects ever undertaken. The company also has offices and equipment depots in the UK, Singapore and Australia. TITAN responds to vessel emergencies around the world and is able to mobilize a worldwide network of expert salvage professionals and specialized, portable equipment within hours of activation. TITAN is accessible 24 hours a day through the company's main dispatch telephone number, +1-954-545-4143. Additional information about TITAN may be found at www.titansalvage.com.
 #     #     #