Crowley's Brickman Inducted into Florida Customs Brokers & Forwarders Association Hall of Fame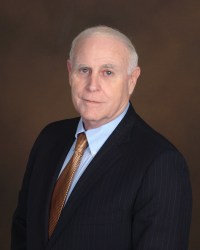 (MIAMI; April 28, 2016) Crowley's Jay Brickman, vice president of government and Cuba services, was honored last week with induction into the Hall of Fame of the Florida Customs Brokers & Forwarders Association (FCBFA), in recognition of his strong contributions to international trade, commerce and logistics.
Brickman, who received his award at a gala FCBFA dinner, began his career with Crowley over 40 years ago and has served in various capacities, including vice president, Caribbean Division; vice president, marketing/pricing; vice president, Mexico, Colombia and Venezuela services; and general manager of Dominican Republic, Haiti and Cuba services.
"I am honored and thankful for the Florida Customs Brokers & Forwarders Association's recognition. Trade and logistics plays a crucial role in providing investment, jobs and partnership between Florida and the Caribbean," said Brickman. "Our industry delivers the commodities that people in the U.S. and Latin America depend upon every day, and I am proud of the dependable, efficient services delivered by Crowley and the rest of our industry to support businesses and consumers. Trade here has been a passion, and it is gratifying to receive induction into the Hall of Fame."
During his tenure with Crowley, Brickman has helped spearhead the company's role as one of the most diversified shipping and logistics companies in the Caribbean and Latin America, and his expertise has made him a resource for others supporting and studying trade. Brickman has co-written a book, "Cuba: It Matters," and he frequently speaks at conferences involving Cuba because of his experience.
Currently based in Fort Lauderdale, Brickman's experience leading shipping and logistics initiatives includes working in Managua, Nicaragua; Panama City, Panama; San Juan, Puerto Rico; Caracas, Venezuela and Mexico. Brickman initiated and directed Crowley's operations in the Eastern Caribbean, Dominican Republic, Haiti, Mexico, Colombia, Venezuela and Cuba. In the case of Cuba, he has managed Crowley's liner service since 2001. He has lived or worked in Latin America for over 40 years.
In addition, Brickman is Crowley's contracting officer for U.S. Transportation Command for the Department of Defense, and a member of the Voluntary Intermodal Sealift Agreement Executive Working Group. He worked with U.S.TRANSCOM to formulate and implement the private sector's initial unified response plan to the 2010 Haiti earthquake and with the Defense Logistics Agency on the Northeast recovery after Hurricane Sandy in 2012.
He is a recipient of the Thomas Crowley Award for Outstanding Achievement, Crowley's most prestigious award. Brickman reports to Steve Collar, senior vice president and general manager, international services.
Besides his leadership at Crowley, Brickman has been a member of the Latin American Trade Committee of the U.S. Department of Commerce. At the University of Florida, he has worked with the Center of Latin American Studies and is a Millennium participant for the Cuban program. He is a founding member of the Cuban Studies Fund and serves on the Cuban Studies Program Advisory Group of the David Rockefeller Center at Harvard University.
Studying Latin American affairs and international economics at both the undergraduate and graduate levels, Brickman received his bachelor's degree from the University of Florida and his master's degree from the School of Advanced International Studies of Johns Hopkins University. He also studied Spanish and Iberian studies at the Universidad de las Americas in Mexico.
The recognition of Brickman's accomplishments follows the 2014 Hall of Fame induction of Nelly Yunta, now vice president of Customized Brokers, Crowley's Miami-based subsidiary specializing in Customs clearance of all U.S. imports.
About the Florida Customs Brokers & Forwarders Association
In 2009, the Florida Customs Brokers & Forwarders Association (FCBFA) started its "Hall of Fame" to honor those individuals who have demonstrated exceptional dedication and commitment to the growth and development of Florida's trade, commerce and logistics industry.
The FCBF is committed to fostering communications between the trade community and the federal agencies in order to expand Florida's trading communities at the local, state, and national level.  The organizations provides critical input for the development of international trade policies through constant communication with various state and federal agencies. FCBF offers a wide variety of opportunities, such as export/import networking that helps generate for Florida businesses potential new client leads that add growth.
About Crowley
Jacksonville-based Crowley Holdings Inc., a holding company of the 124-year-old Crowley Maritime Corporation, is a privately held family and employee-owned company. The company provides marine solutions, energy and logistics services in domestic and international markets by means of six operating lines of business: Puerto Rico Liner Services, Caribbean and Latin America Liner Services, Logistics Services, Petroleum Services, Marine Services and Technical Services. Offered within these operating lines of business are: liner container shipping, logistics, contract towing and transportation; ship assist and escort; energy support; salvage and emergency response through its 50 percent ownership position in Ardent Global; vessel construction and naval architecture through its Jensen Maritime subsidiary; global ship management; government services, and petroleum and chemical transportation, distribution and sales. Additional information about Crowley, its subsidiaries and business units may be found on the Internet at www.crowley.com.