CrowleyFresh Spreads the Love this Valentine's Day
CrowleyFresh, Crowley Maritime Corp.'s cold storage warehouse and logistics services company in Miami, is doing its part to play Cupid this Valentine's Day by ensuring more than 42,500 floral arrangements are carefully stored and accurately prepared for shipment at peak freshness for e-commerce and retail deliveries.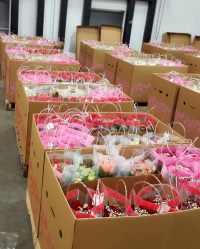 CrowleyFresh employees have been working expeditiously to receive and prepare the flowers for shipment along with a variety of vases, boxes and hard goods such as plush toys, and foodstuffs such as chocolate candies, in time for this top floral gift-giving season.
A video is available to watch here showing how CrowleyFresh succeeds at its range of services.
As bouquets arrive from Latin America, CrowleyFresh employees prepare them for fresh delivery by cutting stems and hydrating the flowers for at least three hours.
"We always start well ahead of Valentine's Day as we begin to receive and store hard goods for e-commerce and retail orders," said Alexis Castillo, CrowleyFresh manager of logistics. "About a week before Valentine's Day the colorful, fragrant flowers arrive for careful storage and handling in our temperature-controlled warehouse. Then our dedicated employees take over, making sure every order receives the proper care and handling to ensure timely, accurate delivery."
With specially designed cold-storage coolers, CrowleyFresh handles a wide variety of import–export fruit, vegetables and other perishables throughout the year, and capably receives and prepares seasonal products, such as flowers around Valentine's Day and Mother's Day. Featuring customs clearance and deliveries as part the company's overall full service offering, CrowleyFresh provides logistics solutions to distribute the products for a variety of traditional retail and e-commerce businesses, including inland and air cargo transportation for Valentine's Day and other occasions.
About CrowleyFresh
CrowleyFresh is a partnership between Crowley and Customized Brokers that bundles individual cold-chain storage and logistics offerings into one comprehensive solution, including customs brokerage, air-freight and trucking services. The state-of-the-art facility is ideal for perishable storage or as an in-transit consolidation/deconsolidation point. It features high-tech cooling and monitoring equipment, multiple humidity and temperature-controlled coolers including forced air pre-cooling, which can be adjusted to meet and maintain varying temperature requirements, and accommodate perishables being imported and exported to/from Latin America, the Caribbean, Europe, South America, Asia and the Far East, and South Florida. With over 400,000 total cubic feet of refrigerated space and about 17,000 square feet of dry storage space for non-perishables, the facility offers warehousing options for a diverse array of cold-chain management services. For more information, visit www.crowleyfresh.com.
For more information about Crowley, the 125-year-old marine solutions, energy and logistics services company, please visit www.crowley.com.