CrowleyFresh Scores 100 Percent on Recent Food Safety Audit
A Grade Very Few Companies Attain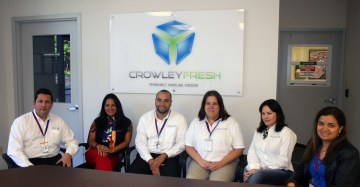 (MIAMI; February, 28, 2014) – CrowleyFresh, one of South Florida's leading cold storage and perishables logistics operations, is also one of the area's cleanest and safest according to Primus Labs, which graded the operation at a perfect 100 percent during a recent food safety audit. Primus said it is a score that only about two percent of those in industry ever achieves.
CrowleyFresh underwent an almost nine-hour audit on Feb. 14, which was designed to test and check the company's ability to maintain the integrity of the supply chain throughout the entirety of the company's chain of custody – from receipt of the perishable products at the cold storage refrigerated dock to the time it is dispatched to store shelves.
During the audit, the Primus Labs inspector made all necessary sweeps through the temperature-controlled warehouse, testing the safekeeping of bell peppers, pineapples, blueberries and asparagus. The 156-question audit ran the gambit from precise maintenance of temperature per commodity, cleanliness, absence of cross-contamination and bacterial growth outside of the norm, proper handling of pest control and chemical storage and labeling.
CrowleyFresh was also scored high because of the group's focus on maintaining proper records. Under requirements, records must be kept for 12 months detailing the precise temperatures of each of the warehouse's multiple cooling chambers.  CrowleyFresh was easily able to supply these records along with information on how the company tracks recalls, conducts independent lab tests and the like.
"We are proud of this accomplishment," said Eduardo Campos, director.  "Achieving perfection is not very common in the industry as per Primus Labs only two percent of the industry has achieved it. Our stellar results are a testament to our entire team's commitment to reinforce procedures in order to supply our customers with trust-worthy cold chain solutions ensuring the integrity of their products."
This isn't the first time CrowleyFresh has scored high.  During last year's audit, the company scored 99 percent.  This one percent deficiency was due in part to the warehouse's brand new status, low volumes and lack of historical data. The facility opened in Feb. 2013.
CrowleyFresh features multiple humidity and temperature-controlled coolers and is open 24/7 to store and handle perishables arriving from Latin and South America, the Caribbean, Europe, Asia and the Far East in South Florida for import and export. The state-of-the-art facility is ideal for perishable storage or may be used as an in-transit consolidation/deconsolidation point. CrowleyFresh features high-tech cooling and monitoring equipment, including forced air precooling, which can be adjusted to meet and maintain varying temperature requirements. With 400,000 total cubic feet of refrigerated space, the facility also offers additional storage space for cargo supplies and non-refrigerated materials.
CrowleyFresh, a joint offering of Crowley Maritime Corp. and subsidiary Customized Brokers is located at 11401 NW 100th Road, Medley, FL 33178. For more information please visit www.crowleyfresh.com. Customers may contact the CrowleyFresh team by calling 305-463-4800 or 305-720-5127 (after hours).
For more information on parent company Crowley, a worldwide marine solutions, transportation and logistics company, please visit www.crowley.com.
For more information on Customized Brokers, a pioneer in the clearance of fresh fruit and produce since 1989 please visit: www.customizedbrokers.net.
#     #     #