CrowleyFresh Cold Storage and Warehouse Facility Now Open in Miami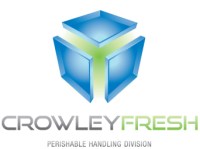 (MIAMI; February 04, 2013) – Crowley Maritime Corp. and Customized Brokers, the company's Miami-based Customs brokerage company, have announced the opening of a new cold storage warehouse facility, CrowleyFresh, located in Miami. A joint offering from Crowley and Customized Brokers, Crowley Fresh features multiple humidity and temperature-controlled coolers and is open 24/7 to store and handle perishables arriving from Latin and South America, the Caribbean, Europe, Asia and the Far East in South Florida for import and export.
The state-of-the-art facility is ideal for perishable storage or may be used as an in-transit consolidation/deconsolidation point. CrowleyFresh features high-tech cooling and monitoring equipment, including forced air precooling, which can be adjusted to meet and maintain varying temperature requirements. With 400,000 total cubic feet of refrigerated space, the facility also offers additional storage space for cargo supplies and non-refrigerated materials.
"When you're shipping temperature-sensitive goods, every second counts. Shippers of perishables need a reliable and committed cold-chain logistics partner who has industry-leading specialized equipment and experience," said Crowley's Nelly Yunta; vice president; sales, marketing and customer care. "We can offer this and more, including a diverse suite of additional logistics capabilities, such as Customs brokerage, air freight and trucking services. For South Florida perishable customers, Crowley is truly a one-stop-shop shipping and logistics provider."
CrowleyFresh is located at 11401 NW 100th Road, Medley, FL 33178. Customers may contact the CrowleyFresh team by calling 305-463-4800 or 305-720-5127 (after hours).
Jacksonville-based Crowley Holdings Inc., a holding company of the 121-year-old Crowley Maritime Corporation, is a privately held family and employee-owned company. The company provides project solutions, transportation and logistics services in domestic and international markets by means of six operating lines of business: Puerto Rico/Caribbean Liner Services, Latin America Liner Services, Logistics Services, Petroleum Services, Marine Services and Technical Services. Offered within these operating lines of business are: liner container shipping, logistics, contract towing and transportation; ship assist and escort; energy support; salvage and emergency response through its TITAN Salvage subsidiary; vessel management; vessel construction and naval architecture through its Jensen Maritime subsidiary; government services, and petroleum and chemical transportation, distribution and sales. Additional information about Crowley, its subsidiaries and business units may be found on the Internet at www.crowley.com.
#     #     #