Crowley Vessels and Crews Awarded Chamber of Shipping of America Safety Awards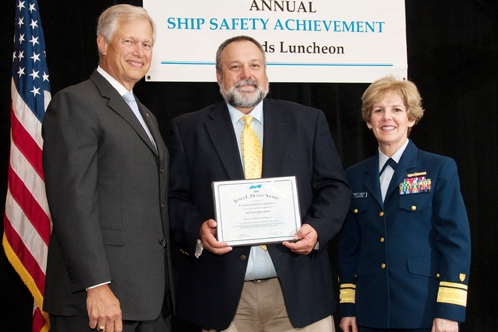 (Jacksonville, Fla.; June 17, 2010) – Twenty Crowley Maritime Corporation vessels and their crews were awarded the 2009 Jones F. Devlin Award for safety during this month's Chamber of Shipping of America (CSA) Annual Safety Awards Luncheon. Together these vessels represent 73 total years without a Lost Time Incident (LTI), reflecting Crowley's commitment to safety.
The CSA Devlin Award is presented each year to merchant vessels that have operated for at least two years without a LTI. Crowley vessels, like the SS Blue Ridge, which has not had a LTI in five years, consistently perform above and beyond industry safety standards.
"This year, we gave awards to 1,094 vessels that operated 7,108 years without a Lost Time Incident," said CSA president, Joseph Cox. "This extraordinary record is directly attributable to the professionalism of our seafarers and the dedication of shore-based company personnel to safe operation."
More than 170 people representing over 70 companies attended this year's luncheon in New Orleans, La.
In addition to the Devlin award winners, Crowley tugs Cavalier and Sea Venture, along with their crews, were awarded CSA's Ship Safety Achievement Letter of Commendation for their participation in emergency response efforts following the 7.0 earthquake that hit Haiti earlier this year.
In February, Cavalier and Sea Venture each brought one 400-foot by 100-foot flat-deck barge to Haiti for installation and continued use as makeshift dock while Haiti rebuilds its port infrastructure.
"At Crowley, our number one core value is safety," said Capt. Victor Goldberg, Crowley vice president of marine operations. "It's very gratifying for our crews to be honored for their safety accomplishments. The Devlin Awards are but one way to recognize that Crowley seagoing employees take a personal responsibility for the safety of themselves and their fellow shipmates."
The following vessels and their respective crews received the 2009 Jones F. Devlin Award for dedication to safety: ATB Pacific Reliance/650-1, ATB Resolve/650-3, ATB Integrity/650-4, ATB Sea Reliance/550-1, ATB Sound Reliance/550-2, ATB Ocean Reliance/550-3, SS Blue Ridge, Tug Monitor, Tug Pilot, Tug Pioneer, Cape Inscription, Cape Intrepid, Cape Isabel, Cape Trinity, Cape Wrath, SS Wright, Cape Douglas, Cape Ducato, and Cape Edmont.
The Chamber of Shipping of America (CSA) represents 35 U.S. based companies that own, operate or charter oceangoing tankers, container ships, dry bulk vessels engaged in both the domestic and international trades and companies that maintain a commercial interest in the operation of such oceangoing vessels.
Jacksonville-based Crowley Holdings Inc., a holding company of the 117-year-old Crowley Maritime Corporation, is a privately held family and employee-owned company. The company provides diversified transportation and logistics services in domestic and international markets by means of six operating lines of business: Puerto Rico/Caribbean Liner Services, Latin America Liner Services, Logistics Services, Petroleum Services, Marine Services and Technical Services. Offered within these operating lines of business are the following services: liner container shipping, logistics, contract towing and transportation; ship assist and escort; energy support; salvage and emergency response through its TITAN Salvage subsidiary; vessel management; vessel construction and naval architecture through its Jensen Maritime subsidiary; government services, and petroleum and chemical transportation, distribution and sales. Additional information about Crowley, its subsidiaries and business units may be found on the Internet at www.crowley.com.
# # #