Crowley Tug Participates in Blackout Test with Ultra-Deepwater, Semisubmersible Noble Jim Day Rig in U.S. Gulf of Mexico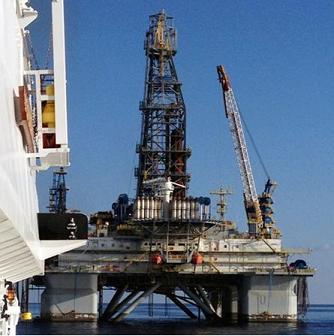 (HOUSTON, Texas; August 25, 2014) – Once again displaying their diversity for use in the domestic petroleum industry, one of Crowley's four ocean class tugs, Ocean Sky, recently provided back-up station-keeping and holdback services during a routine blackout test of ultra-deepwater, semisubmersible oil rig Noble Jim Day. This Shell-leased, Noble-owned rig is currently operating in about 9,600 feet of water in the 508 section of Walker Ridge as part of the Stones Prospect.  
As part of routine blackout testing, Crowley was contracted to have the Ocean Sky connect its tow line to the rig, which itself has DP3 technology. The tug's connection was to serve as a contingency in the event the rig required additional assistance, which it did not during the 12-hour drill.
"These tugs have performed above and beyond each time they've been contracted," said Tommy Crosby, manager, sales and marketing, for Crowley's solutions group. "During this drill, we were able to demonstrate yet another feature of these ocean class tugs – tug holding position during stand by operations. These four tugs have repeatedly performed to the expectations of their build including salvage, heavy-lift barge towing, ocean towing and positioning of offshore structures, and standby and response in the Gulf of Mexico during Loop Current features and hurricane contingency planning."
Crowley's ocean class tugs are modern ocean towing twin-screw vessels with controllable pitch propellers (CPP) in nozzles, high-lift rudders and more than 147 MT bollard pull. The first two ocean class vessels, the Ocean Wave and Ocean Wind, are classed as Dynamic Positioning 1 (DP1) tugboats and are twin-screw tugs with an overall length of 146 ft., beam of 46 ft., hull depth of 25 ft. and design draft of 21 ft. The second two tugs of the class, Ocean Sky and Ocean Sun, are classed as DP2 and are 10 feet longer. All four vessels are capable of rig moves, platform and Floating Production, Storage and Offloading (FPSO) unit tows, emergency response, salvage support and firefighting.
Crowley's solutions group encompasses ocean towing along with several of the company's other essential business functions – project management for the energy and resource extraction industries; marine salvage, wreck removal and emergency response; heavy lift barge transportation; commercial ship management; marine engineering, naval architecture and construction management; remote fuel management; project concept study development and government services.  With main offices, equipment depots and vessel homeports in Jacksonville, Fla.; Houston, Texas; Seattle, Wash.; and New Orleans and Lake Charles, La.; supplemented by those the company has internationally, Crowley is positioned to respond to variety of maritime projects around the globe quickly, efficiently and most importantly – safely. To learn more about Crowley's solutions group, please visit: www.crowley.com/solutions.
#     #     #