Crowley Transports Two Massive 98,000-Pound Electrical Equipment Enclosures to Puerto Rico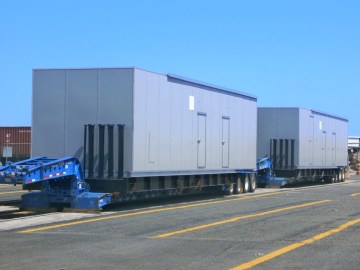 (JACKSONVILLE, Fla.; March 2, 2015) – Crowley Maritime Corporation's liner services group recently transported two massive electrical equipment enclosures with a combined weight of 196,000 pounds to San Juan, Puerto Rico, a feat that required shifting the company's 580-foot triple-deck barge La Princesa beside its normal berth at the Crowley terminal in Jacksonville, Fla., so that the pieces could be rolled onto the lower deck of the barge free of obstruction from the loading ramp.
"This orchestrated shifting of the barge and specialized loading operation is not commonly done," said John Hourihan, senior vice president and general manager, Puerto Rico services. "The Crowley team not only came up with the solution for handling this heavy, oversized cargo, but executed the plan safely and successfully."
Crowley was contracted by ATS International (ATSI) for the ocean transportation of the 12-foot wide, 16-foot tall, 63-foot long enclosures, which contained generating equipment. ATSI handled the over-the-road transportation and delivered the enclosures to the port on over-length, four-axle specialty trailers. To safely load the cargo, Crowley's tug Sentry pushed the barge 100 feet beside its normal berth, where it was secured to the dock with wires and chains. The barge was then ballasted down to match the dock height while two contracted harbor tugs pressed against it on opposite sides at 90-degree angles to hold it in place. With the barge and dock level, the trailers were backed onto the vessel. Wood matting was laid in two trailer lanes prior to loading to create lanes large enough to accommodate the width of the trailers. Altogether, the cargo took up eight trailer spaces front to back on one side of barge.
"We at ATS International are always excited to collaborate with Crowley on these special projects," said Jay Thomassen, director, sales and marketing, ATSI. "We can always count on Crowley for these challenging cargo moves."
After arrival in San Juan, the cargo was backed off of the barge and securely stowed until dispatch to ATSI.
"Crowley specializes in customized Roll-On / Roll-Off solutions like this for project customers," said Doug Walker, director, port operations, Jacksonville. "We assess all aspects of the transfer against the combined weight and dimensions of the cargo and assign the proper method of conveyance to get the job done. The joint port operations team strives to do this work right the first time, every time, taking into account all of the variables we possibly can in achieving success."
Crowley has been serving the Puerto Rico market since 1954, longer than any other carrier in the trade. The company, with nearly 200 Puerto Rico employees, is also the No. 1 ocean carrier between the island commonwealth and the U.S. mainland with more weekly sailings and cargo carried annually than any other shipping line. Crowley is currently building two new LNG-powered container ships to be deployed in the trade in 2017.
Jacksonville-based Crowley Holdings Inc., a holding company of the 123-year-old Crowley Maritime Corporation, is a privately held family and employee-owned company. The company provides project solutions, energy and logistics services in domestic and international markets by means of six operating lines of business: Puerto Rico/Caribbean Liner Services, Latin America Liner Services, Logistics Services, Petroleum Services, Marine Services and Technical Services. Offered within these operating lines of business are: liner container shipping, logistics, contract towing and transportation; ship assist and escort; energy support; salvage and emergency response through its TITAN Salvage subsidiary; vessel management; vessel construction and naval architecture through its Jensen Maritime subsidiary; government services, and petroleum and chemical transportation, distribution and sales. Additional information about Crowley, its subsidiaries and business units may be found on the Internet at www.crowley.com.
#     #     #