Crowley Trains Kuwaiti Navy Mariners on the Latest Z-Drive Harbor Tug Technology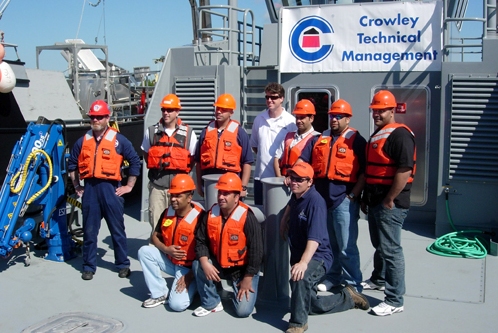 (Seattle, Wash.; June 29, 2010 – A Crowley Maritime Corporation team recently trained seven Kuwaiti Navy mariners in operations aboard the first of two newly built Z-Drive harbor tugs the navy will take delivery of this year. The 30-day training session was designed to help the mariners learn how to operate the new boat safely while maximizing its features and performance.
The two 67-foot Z-Drive tugs were ordered by Naval Sea Systems Command (NAVSEA) and are being built by Rozema Boat Works, Inc., of Mt. Vernon, Wash. The first tug, Warjiya, was completed in April and the second tug is scheduled for delivery in Sept. Crowley, which has extensive technical experience in vessel design, construction management and vessel operation, was chosen by NAVSEA to provide support in the final design selection and development of the specifications of the boat to meet the specific requirements. Crowley was later contracted to provide training to the mariners who will be operating the vessels. The Kuwaiti Navy plans on using the new tugs to provide ship assist to their surface combat vessels when they return to port.
Crowley conducted the customized training in Seattle and Anacortes, Wash., and covered advanced fire fighting, vessel operations and engineering, safety and bridge simulator training.
"This unique partnership was made possible by cooperation between the Kuwaiti Navy, Rozema and everyone at Crowley," said Capt. Margaret Reasoner, Crowley's managing director of marine personnel, who developed the training package. "We look forward to providing similar services to other customers who may need enhanced technical training that surpasses most corporate and regulatory standards."
Crowley tug Captains Keith Kridler, Tim Dawson, Irv Berndt, Joel Bergland and Chief Engineer Ken Stanton acted as trainers on the project, allowing the mariners the opportunity to get valuable hands-on learning and experience. Port Captains Andrew Gauthier and Joshua Ellis along with Sam Simone, manager of engineering, contributed to the success of the training program with shore-side support and training module development.
Rozema Boat Works, Inc. is a third generation, family-owned company which specializes in building customized marine vessels. RBW has been in business since 1955, and has built vessels ranging from fishing vessels to oil spill response vessels. For more information, visit www.rozemaboatworks.com.
Jacksonville-based Crowley Holdings Inc., a holding company of the 118-year-old Crowley Maritime Corporation, is a privately held family and employee-owned company. The company provides diversified transportation and logistics services in domestic and international markets by means of six operating lines of business: Puerto Rico/Caribbean Liner Services, Latin America Liner Services, Logistics Services, Petroleum Services, Marine Services and Technical Services. Offered within these operating lines of business are the following services: liner container shipping, logistics, contract towing and transportation; ship assist and escort; energy support; salvage and emergency response through its TITAN Salvage subsidiary; vessel management; vessel construction and naval architecture through its Jensen Maritime subsidiary; government services, and petroleum and chemical transportation, distribution and sales. Additional information about Crowley, its subsidiaries and business units may be found on the Internet at www.crowley.com.
# # #