Crowley to Supply LNG to Coca-Cola Bottlers (CC1 Companies, LLC) in Puerto Rico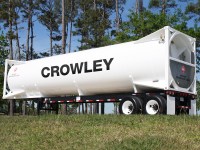 Crowley's Carib Energy has been awarded a multi-year contract to supply containerized, U.S.-sourced Liquefied Natural Gas (LNG) to its first industrial customer, Coca-Cola Puerto Rico Bottlers in Cayey and Club Caribe in Cidra, both wholly owned subsidiaries of CC1 Companies. The contract, executed through Crowley's Carib Energy subsidiary, includes the fuel supply and transportation of LNG to two of the manufacturer's plants in Cayey and Cidra, Puerto Rico, which will provide both facilities with substantially lowered emissions and an alternative to their current fuel source, diesel. Other benefits include an uninterrupted fuel supply due to the abundance and availability of U.S.-sourced LNG.
The transportation of LNG from U.S.-based liquefaction facilities to the two manufacturing plants will be managed by Crowley's domestic logistics team, which will coordinate over-the-road transportation of 40-foot intermodal containers authorized by the Department of Transportation to carry approximately 10,000 gallons of LNG to the company's Jacksonville, Fla., shipping terminal. Once in Jacksonville, the containers will be loaded onto company-owned vessels departing for Puerto Rico. Upon arrival on the island, Crowley's Puerto Rico-based logistics team will deliver the LNG to the local Coca-Cola bottling facilities. There the LNG will be re-gasified back into pipeline natural gas for power consumption. 
"From the sourcing and transportation to the delivery into the equipment, the entire process and LNG supply chain will be seamless for Coca-Cola," explained Crowley's Greg Buffingon, vice president, Carib Energy. "We are thrilled to play a pivotal role in supplying a cost-efficient, safe, reliable and environmentally friendly natural gas fuel source for their operations."
Julio Bravo,vice president of CC1 Companies, explained "We are very pleased to start working with Crowley towards bringing alternatives for cost effective sources of energy into our island and in the process provide a better footprint in our industrial projects by lowering our emissions. CC1 Companies as a group and owners of six manufacturing facilities on the island is committed to look at all alternatives that will help us maintain our competiveness as manufacturers and provide our island with more cost effective sources of energy in order to continue growing as manufacturers of products for Puerto Rico, the Caribbean, Latin America and the U.S. We understand the great opportunities in using LNG and hope to be one of many to encourage the demand and reliable supply of such sources of energy."
Last year, Crowley announced it had entered the LNG market by acquiring Florida-based Carib Energy LLC. Founded in 2011, the Crowley company was the first to receive a small scale, 25-year, LNG export license from the U.S. Department of Energy (DOE) for LNG transportation from the U.S. into Free Trade Agreement (FTA) countries. Shortly thereafter, a Crowley LNG services group was formed to begin offering supply, transportation, and distribution of LNG services via 10,000-gallon ISO tanks.
While Carib Energy has a pending DOE application to supply LNG transportation services into non-FTA countries, its current licensing allows the Crowley company to supply cost-efficient, environmentally friendly LNG from the U.S. to both commercial and industrial customers within the Caribbean and Central and South America – all countries where LNG is an attractive commodity thanks to its low price point in the face of growing power supply costs.  Crowley is also cementing its involvement in future LNG fuel bunkering for ships transiting between the U.S. and Caribbean markets.
"Our ability to service Coca-Cola PR Bottlers in this way is an excellent example of how we can utilize a combination of our core competencies – including marine solutions, logistics planning and execution, and associated technical and project management capabilities – to provide an LNG energy solution in markets within the U.S. and abroad where there is great need and potential benefit," said Matt Jackson, Crowley vice president of LNG business development. "We look forward to serving many more customers in the U.S., Caribbean and beyond in a similar capacity."
LNG facts from the Center for Liquefied Natural Gas (CLNG):
LNG, or liquefied natural gas, is natural gas that is cooled to -260° Fahrenheit until it becomes a liquid and then stored at essentially atmospheric pressure. Converting natural gas to LNG, a process that reduces its volume by about 600 times allows it to be transported. Once delivered to its destination, the LNG is warmed back into its original gaseous state so that it can be used just like existing natural gas supplies. When returned to its gaseous state, LNG is used across the residential, commercial and industrial sectors for purposes as diverse as heating and cooling homes, cooking, generating electricity and manufacturing paper, metal, glass and other materials. LNG is not stored under pressure and it is not explosive. LNG vapors (methane) mixed with air are not explosive in an unconfined environment. When exposed to the environment, LNG rapidly evaporates, leaving no residue on water or soil.
About Crowley:
Crowley has proudly served the shipping needs of Puerto Rico since 1954. Originally operating as TMT Trailer Ferry, Crowley has literally served as a lifeline to the island, delivering groceries, department store merchandise, building materials, automobiles and more. The company has also helped bolster the Puerto Rican export economy by transporting food, pharmaceuticals, rum and other consumer goods to the U.S. mainland. The company employs almost 300 people in Puerto Rico with an annual payroll of over $21 million. Recently, Crowley announced plans to build two larger, faster and environmentally-friendly liquefied natural gas (LNG)-powered, combination container – Roll-On/Roll-Off (ConRo) ships for the Puerto Rico trade lane to replace the current triple-deck towed barges. These new ships will decrease transit times, maximize cargo carriage and significantly reduce CO2 emissions. These vessels will create approximately 100 new jobs on the island and come with the possibility of additional investments to the tune of $58 million into the infrastructure of the Isla Grande Terminal.
Founded in 1892, Jacksonville-based Crowley is a privately held family and employee-owned company. The company provides project solutions, transportation and logistics services in domestic and international markets by means of six operating lines of business: Puerto Rico/Caribbean Liner Services, Latin America Liner Services, Logistics Services, Petroleum Services, Marine Services and Technical Services. Offered within these operating lines of business are: liner container shipping, logistics, contract towing and transportation; ship assist and escort; energy support; salvage and emergency response through its TITAN Salvage subsidiary; vessel management; vessel construction and naval architecture through its Jensen Maritime subsidiary; government services, and petroleum and chemical transportation, distribution and sales. Additional information about Crowley, its subsidiaries and business units may be found on the Internet atwww.crowley.com.