Crowley to Increase Capacity, Equipment and Sailing Frequency in U.S. Mainland – Puerto Rico Trade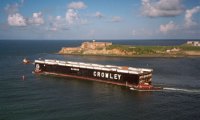 Crowley Maritime Corporation's liner services group announced today it will add a 400 FEU capacity, flat deck barge to its South Atlantic Puerto Rico service in the first quarter, increasing the rotation between Jacksonville, Fla., and San Juan to four sailings each week. The company will also replace the existing 580-foot, triple-deck barges with larger, recently modified 730-foot, triple-deck barges in the North Atlantic – Puerto Rico trade, between Pennsauken, N.J., and San Juan, increasing capacity by over 40 percent in that lane.
To support the increased capacity in both services, Crowley will add over 6,000 pieces of cargo carrying equipment including a combination of dry and reefer containers and chassis.
"With the changes in the marketplace, we expect strong demand for space on our vessels, and we are stepping up to provide improved capacity, equipment and sailing frequency to benefit our customers," said John Hourihan, senior vice president and general manager, Puerto Rico. "This service enhancement is another indication of our commitment to the people and businesses of Puerto Rico, whom we have been pleased to serve for over 60 years."
Crowley will place the flat deck barge into service on a two-week rotation once it has been outfitted for container carriage. When combined, the flat deck barge along with the existing six, triple-deck, roll-on/roll-off (Ro/Ro) barges, ranging in size from 580 feet long to 730 feet and sailing on an accelerated schedule, will allow Crowley to offer four weekly southbound and northbound sailings per week between Jacksonville and San Juan.
Crowley has been serving the Puerto Rico market since 1954, longer than any other carrier in the trade. The company, with nearly 200 Puerto Rico employees, is also the No. 1 ocean carrier between the island commonwealth and the U.S. mainland with more weekly sailings and more cargo carried annually than any other shipping line. Crowley is currently building two new LNG-powered container ships to be deployed in the trade in 2017.
Jacksonville-based Crowley Holdings Inc., a holding company of the 123-year-old Crowley Maritime Corporation, is a privately held family and employee-owned company. The company provides project solutions, energy and logistics services in domestic and international markets by means of six operating lines of business: Puerto Rico/Caribbean Liner Services, Latin America Liner Services, Logistics Services, Petroleum Services, Marine Services and Technical Services. Offered within these operating lines of business are: liner container shipping, logistics, contract towing and transportation; ship assist and escort; energy support; salvage and emergency response through its TITAN Salvage subsidiary; vessel management; vessel construction and naval architecture through its Jensen Maritime subsidiary; government services, and petroleum and chemical transportation, distribution and sales. Additional information about Crowley, its subsidiaries and business units may be found on the Internet at www.crowley.com.