Crowley Supports Stampede Platform Tow-Out and Installation in the U.S. Gulf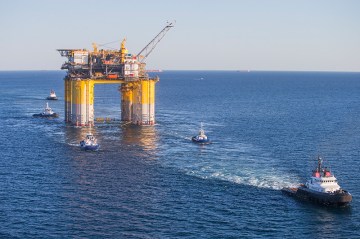 Crowley Maritime Corp. ocean class tugboats and 455-series high-deck strength barges recently played an integral role in the safe, successful tow-out and installation of Hess Corporation's Stampede tension-leg platform (TLP) in the deep waters of the U.S. Gulf.
Demonstrating both nearshore and offshore capabilities, six Crowley vessels worked together alongside other third-party assets, to deliver the platform, tendons and other equipment from Kiewit Offshore Services' facility in Ingleside, Texas, to the site of the Stampede floating production facility, about 150 miles offshore in about 3,500 feet of water.
In the first stage, Crowley's ocean class tugboat Ocean Wind and the 455-series barges 455-3, 455-5, and 455-7 worked together alongside contracted vessels to deliver from Kiewit to the offshore site many 300-foot sections of 12 3,400-foot tendons that would secure the TLP to the seabed. From there, the company's Ocean Sun and Ocean Sky, along with several third-party tugs, towed the TLP through the Ingleside Channel to offshore waters. After a scheduled brief stop at a holding location, the convoy of vessels began the second stage of the tow in offshore waters.
The Ocean Sun, Ocean Sky and two third-party anchor-handling tugs safely towed the Stampede platform for four days before reaching the project site.
Upon arrival, Crowley's tugboats began the third phase of work –  positioning and stabilizing the platform using the tugs' dynamic positioning capabilities while the TLP was secured to the tendons. The tugs with their tow wires were positioned in a star pattern with the platform held in a stationary position in the middle. After Hess and its installation contractor, Heerema Marine Contractors, completed installation and the platform was made storm safe, Crowley's assets were demobilized and returned to nearshore waters.
"The tow-out and installation support work we provided was highly successful," explained Crowley's Mike Rampolla, general manager, offshore services. "This project was an excellent example of the types of projects Crowley's offshore and heavy lift personnel and assets are ideally suited for. We have several future jobs in the pipeline and look forward to bringing our full capabilities together to ensure successful outcomes for our energy customers."
Crowley's ocean class tugs are modern ocean towing twin-screw vessels with controllable pitch propellers (CPP) in nozzles, high-lift rudders and more than 147 metric-ton bollard pull. The first two ocean class vessels, Ocean Wave and Ocean Wind, are classed as Dynamic Positioning 1 (DP1) tugboats and are twin-screw tugs with an overall length of 146 feet, beam of 46 feet, hull depth of 25 feet and design draft of 21 feet. The second two tugs of the class, Ocean Sky and Ocean Sun, are classed as DP2 and are 10 feet longer. All four vessels are capable of rig moves, platform and Floating Production, Storage and Offloading (FPSO) unit tows, emergency response, salvage support and firefighting.
Stampede, in which Hess holds a 25 percent working interest and is operator, is one of the largest undeveloped fields in the U.S. Gulf of Mexico. Once operating fully, the floating production facility will have gross processing capacity for approximately 80,000 barrels of oil per day.
Jacksonville-based Crowley Holdings Inc., a holding company of the 125-year-old Crowley Maritime Corporation, is a privately held family and employee-owned company. The company provides project solutions, energy and logistics services in domestic and international markets by means of six operating lines of business: Puerto Rico/Caribbean Liner Services, Latin America Liner Services, Logistics Services, Petroleum Services, Marine Services and Technical Services. Offered within these operating lines of business are: liner container shipping, logistics, contract towing and transportation; ship assist and escort; energy support; salvage and emergency response through its 50 percent ownership in Ardent Global; vessel management; vessel construction and naval architecture through its Jensen Maritime subsidiary; government services, and petroleum and chemical transportation, distribution and sales. Additional information about Crowley, its subsidiaries and business units may be found at www.crowley.com.
#     #     #