Crowley Successfully Completes Rapid Response for Emergency Aid to Bahamas Following Hurricane Irene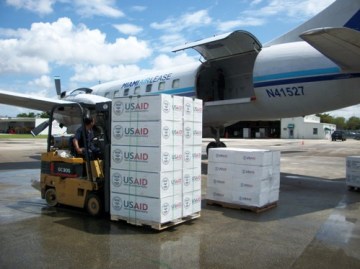 (MIAMI; September 12, 2011) – As one of the warehouses contracted by the U.S. Agency for International Administration (USAID) to provide pre- and post-disaster relief commodity storage services for the United States, Crowley Maritime Corporation's logistics group recently provided the rapid deployment of emergency aid commodities for the Bahamas in the aftermath of Hurricane Irene.
Crowley's Miami warehouse is a distribution center for USAID relief supplies held for disbursement within the Western Hemisphere. Supplies are frequently called for, on an emergency basis, following natural disasters or in response to foreign governmental requests for assistance from the people of the United States.
Once a shipment request is made, Crowley has only two hours to pull and load the relief supplies for transit. To date, the company reports a 100 percent success rate in handling such requests. Crowley currently maintains both inventory and reporting processes allowing USAID representatives access to real time supply lists. From these lists, USAID can make shipment decisions following situational assessments from personnel stationed within the disaster area. Once agency approval from Washington D.C., is obtained, Crowley receives the request and delivers the supplies for air transportation.
Crowley is no stranger to disaster relief programs. In June of 2007, the company signed its original contract with USAID to warehouse disaster relief items at the Miami location. The company has assembled a special rapid response warehouse team to meet these stringent shipping requirements. This latest response in the Bahamas follows a long line of successes getting relief supplies to those in need, including people affected by an earthquake in Peru, a hurricane in Jamaica and the devastating earthquake in Haiti last year.
Jacksonville-based Crowley Holdings Inc., a holding company of the 119-year-old Crowley Maritime Corporation, is a privately held family and employee-owned company. The company provides marine solutions, transportation and logistics services in domestic and international markets by means of six operating lines of business: Puerto Rico/Caribbean Liner Services, Latin America Liner Services, Logistics Services, Petroleum Services, Marine Services and Technical Services. Offered within these operating lines of business are: liner container and break-bulk shipping; logistics; contract towing and transportation; harbor ship assist and tanker escort; energy support; salvage and emergency response through its TITAN Salvage subsidiary; vessel management; vessel construction and naval architecture through its Jensen Maritime subsidiary; government services, and petroleum and chemical transportation, distribution and sales. Additional information about Crowley, its subsidiaries and business units may be found on the Internet at www.crowley.com. 
#     #     #