Crowley Safely Delivers the USS Iowa to Los Angeles Following a Four-Day Tow from San Francisco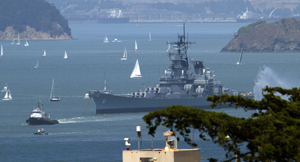 Retired Battleship will be Transformed into an Interactive Naval Museum in July
(LOS ANGELES; May 30, 2012) – Crowley Maritime Corporation's 7,200-HP tugboat Warrior, towing the historic USS Iowa, safely arrived at a Los Angeles offshore anchorage this morning following a four-day tow from San Francisco. The vessel arrived in Los Angeles after crossing the San Francisco Bay and passing under the historic Golden Gate Bridge amid a festive celebration of the bridge's 75th birthday this past weekend.
The vessel is now anchored several miles offshore from Seal Beach, Calif., where it will undergo thorough hull cleaning operations for several days. When the hull cleaning is complete, the Warrior will tow the retired battleship to Berth 51-52, where she will be moored until Saturday, June 9. On that day, Crowley's harbor tugs will move the USS Iowa down the main channel to its permanent home in Berth 87 at the Port of Los Angeles in San Pedro, Calif. There, the ship will be transformed into an interactive floating museum by the nonprofit Pacific Battleship Center.
The USS Iowa is more than 15 stories high, 887 feet long and weighs more than 45,000 tons. It's known as the Battleship of Presidents because it hosted Franklin D. Roosevelt, Ronald Reagan and George H.W. Bush.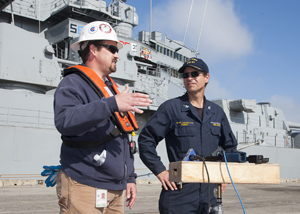 "We are pleased to announce the safe delivery of this historically significant vessel to its new home in Los Angeles," said Andrew Gauthier, port captain, Crowley. "It is an honor for our team and company to have the privilege of caring for the USS Iowa on her journey to her new home."
"The Veterans Association of the USS Iowa is extremely pleased and proud that our ship is being returned to her original beauty and glory as a museum/memorial," says President Gerald Gneckow. "Many of our members who served aboard during WWII and Korea are now quite elderly. For them, the opportunity to set foot aboard their ship once again is the answer to a prayer."
In the past, Crowley has successfully towed several other historic military ships and aircraft carriers, including the USS Missouri from Washington to Pearl Harbor in 1998, the USS New Jersey from Washington to Philadelphia via the Panama Canal in 1999, and the USS Oriskany from South America to Vallejo, Calif.
For decades, Crowley's ocean towing and barge transportation team has positioned itself as a leader and expert in moving the large and unusual. The team guarantees unmatched expertise and specialized equipment to provide safe and reliable marine transportation and logistics solutions for project cargo offshore construction and module component movements worldwide.
A reunion of USS Iowa veterans is scheduled to be held at the Port of Los Angeles from July 2 through 6, and the city has plans to celebrate the museum's public grand opening on July 7. The new museum, which will be open from 9:00 a.m. to 5:00 p.m. daily, will highlight the contributions of the battleship and its crew during World War II, the Korean War and the Cold War. Educational programs at the museum will offer lessons in history, leadership, team-building, character development and community service. Public ticket sales for the July 7 grand opening and beyond began last week. To purchase tickets online or for more information, please visit www.pacificbattleship.com.
Jacksonville-based Crowley Holdings Inc., a holding company of Crowley Maritime Corporation founded in San Francisco in 1892, is a privately held family and employee-owned company primarily engaged in project solutions, transportation and logistics services in domestic and international markets. Additional information about Crowley, its subsidiaries and business units may be found on the Internet at www.crowley.com.
#     #     #
Photo Captions: 
Top: Crowley's tugboat Warrior tows the USS Iowa across San Francisco Bay on May 26 at the start of a four-day tow that ended today, May 30, at a Los Angeles offshore anchorage. After routine hull cleaning at the anchorage, the historic battleship will move to the Port of Los Angeles, where it will open to the public as an interactive museum on July 7. (Pacific Battleship Center Photo/Jeremy Bonelle)
Bottom: Crowley's Andrew Gauthier discusses the tow with Robert Kent, president of the Pacific Battleship Center (Pacific Battleship Center Photo/Jeremy Bonelle)